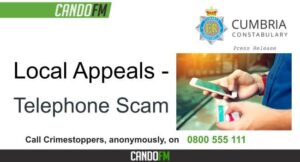 Cumbria Police would like to advise the public that we are aware of a telephone scam whereby people who are claiming to be police officers over the phone are requesting members of the public to transfer money to them to assist in a fraud investigation.
This is scam which has been reported in other parts of the country.
We would like to state that no police officer would contact the public requesting any money and remind the public to remain vigilant and to contact the police to check on the identity of officers if you have any suspicions.
Alternatively you can contact Crimestoppers, anonymously, on 0800 555 111.