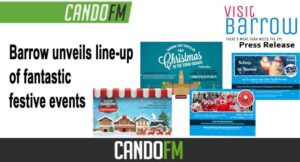 A family-friendly line up of festive events kicks off in Barrow this weekend, with the town's Christmas Lights Switch On being lit up by an array of local musical talent.
Barrow's build up to Christmas gets underway from 3pm this Saturday 20 November, as a series of local entertainers take to the stage for the Barrow Christmas Lights Switch On concert.
This Saturday's event has been organised by Ultimate Events, with people from across Cumbria being urged to support one of the county's most popular high streets after a difficult 18 months.
However, the Christmas lights are just the start, with a series of pre-Christmas events planned for the coming weeks.
The name Barrow is derived from the Norse 'Barrai' and there is plenty of evidence of the Vikings' legacy in Furness, so Saturday 27 November will see the return of the Vikings to the town for a special 'Furness Yule' event. Organised by Barra Culture and sponsored by BAE Systems, the Furness Yule will include a wide range of Viking themed activities for all ages, from decoration making to creating an 8ft tall Yule goat.
The following weekend it is officially 'Shop Barrow Day'. Coinciding with National Small Business Saturday (4 December), there will be a special Christmas Market in the outdoor market area and the day will be a continuation of Furness Yule including an array of street performance, local crafts, storytelling and family fun events.
At the same time, there will be two special screenings of Will Ferrell's classic Christmas comedy film 'Elf' at The Forum (11am and 2pm), with the audience all encouraged to wear fancy dress. Visitors from across Cumbria – and beyond – can enjoy free parking in all council-owned town centre car parks, courtesy of Barrow BID (Business Improvement District) throughout the day.
The Vikings then return on Sunday 5 December for a Furness Yule Spectacular at the Dock Museum. Look out for fire, axes and even a Norse Flying Goddess.
The festive family atmosphere continues the following Saturday 11 December, with the Believe in Barrow Music Stage hosted by local rap sensations JD & Swerve. Live music, entertainment and festive fun will get underway in the town centre from 12 noon.
Another highlight of the day will be the Barrow Santa Dash, a 2.5 km walk, jog or run around the town centre in aid of St Mary's Hospice. Participating Santas are being asked to light themselves up with festive lighting to create a spectacle of light around the course. Along the way, they will be entertained by live musicians and street entertainers.
Barrow BID Manager, Colin Garnett says, "Christmas is all about making memories and we're going all out in Barrow this year to make it a special one – not just for Furness residents, but for people from across Cumbria who want to come out and support one of their unique local High Streets. We know Christmas is about so much more than sitting at home and ordering generic presents from faceless websites. It's about creating a genuine festive atmosphere, supporting local independent retailers and reconnecting with family and friends at this special time of year. With the help of local people, we intend to do just that!"
For more about shopping in Barrow, visit: https://visitbarrow.org.uk/