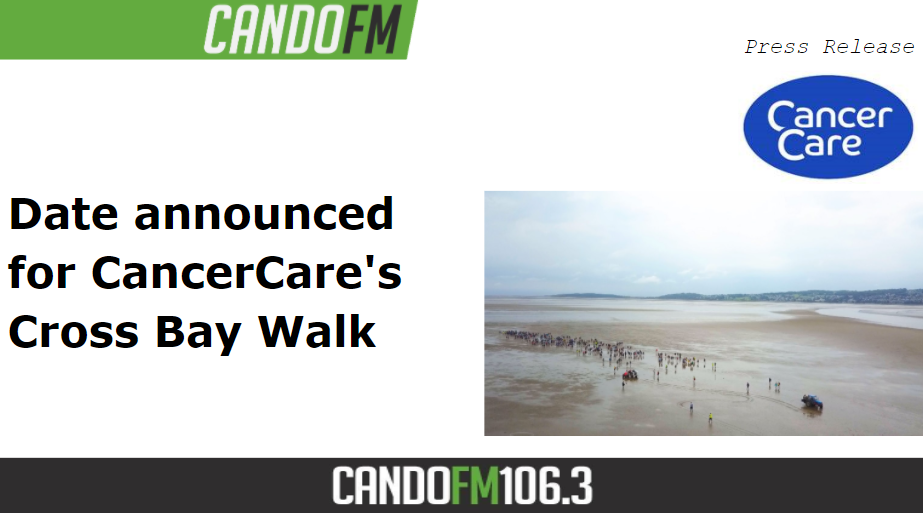 Walkers will be able to experience the thrill of tackling one of the region's most stunning strolls and raise money for people dealing with cancer, this summer.
CancerCare will be holding its annual Cross Bay Walk, which will see hundreds of people walk the famous eight mile stretch across Morecambe Bay from Arnside to Kents Bank, on Sunday 29 August.
Last year's event, which raises thousands of pounds to help support local people affected by cancer and bereavement, was cancelled due to the Coronavirus pandemic, but organisers have worked hard to ensure that the event is fully risk assessed and will comply with any Government guidelines in place at the time.
Due to the tides and treacherous nature of the sands, there are a limited number of slots available to complete the walk each year and it will be led by expert guide Michael Wilson who has replaced renowned former Queen's Guide to the Sands Cedric Robinson MBE following his retirement in 2018.
Organiser Kat Michaels said: "We were devastated when we had to cancel the Cross Bay Walk last year. It is one of our favourite events, not just for the money it raises but because it's wonderful to see so many people from different walks of life coming together and enjoying the awe-inspiring landscape we are so lucky to have on our doorstep.
"It feels like we've been cooped up for months and the promise of enjoying the fresh air, wide open spaces and stunning scenery of one of the UK's iconic walking experiences is making us feel really positive about the year ahead."
The walk takes about around four hours to complete and costs £15 for adults, £10 for U16s and £1 for dogs. It starts at Arnside Promenade at 9.45am and finishes at Kent's Bank Railway Station. Participants are recommended to have reasonable level of fitness.
In the event of cancellation, ticket holders will receive a full refund,
To book a place or for more information and a fundraising pack visit www.trybooking.co.uk/YPS