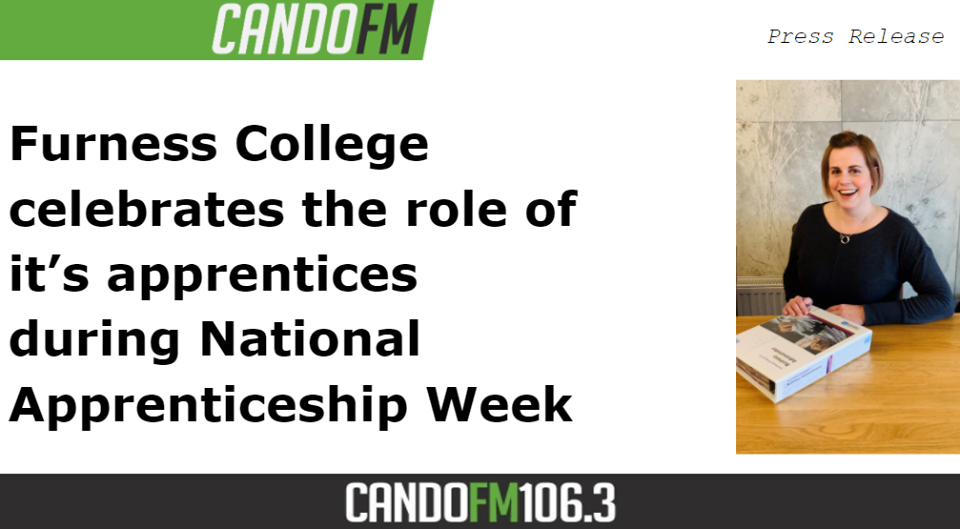 FURNESS COLLEGE CELEBRATES THE ROLE OF IT'S APPRENTICES DURING NATIONAL APPRENTICESHIP WEEK
As part of National Apprenticeship Week, Furness College is showing there is no age limit to starting an apprenticeship. Below, former hairdresser Vicky Porter explains why she changed her direction at 37 and took up a business administration apprenticeship at Furness College's Channelside campus to #BuildTheFuture after a career break.
CASE STUDY
Name: Vicky Porter
Age: 37
Apprenticeship: L3 Business Administrator
Employer: Furness College
Why did you choose an apprenticeship?
I was keen to get back into work following a career break to care for my two small children. My previous training was in the hairdressing sector. I was keen to develop my IT skills and gain a business qualification in the hope it would open doors to new career opportunities. An apprenticeship seemed the perfect option as it meant I was earning at the same time as training.
What do you love most about your apprenticeship?
I love being able to give admin support to members of my team (and the wider curriculum areas). I love the fact that I am learning new skills while earning.
What skills have you learned or developed?
My IT skills were quite limited before but I feel I have developed these skills immensely since starting my apprenticeship including a better knowledge of excel which I hadn't used much previously. As well as this my communication skills have developed and during the covid 19 pandemic using alternative methods of communication has been vital.
What is your career goal?
I would definitely like to stay in the education sector. I hope to be able to take on more responsibilities and progress to higher positions. I am keen to gain some higher qualifications.
What are some of the most common misconceptions about apprenticeships and what would you say to challenge these stereotypes?
Only young people can do apprenticeships – NO, absolutely not. Anyone can do an apprenticeship regardless of their age.
Apprentices are not a valued member of the team – This isn't the case, apprentices are extremely valuable to the workplace. They boost the skills of the workplace and they will benefit from all the related rights the same as any other employee.
How is an apprenticeship helping you to build your future?
I am gaining valuable skills that I can use in lots of roles. I feel I am just at the start of an exciting career path and I'm looking forward to progressing to a successful career in the education sector and the opportunities that may arise following my apprenticeship.
Who would you like to thank for helping you on your apprenticeship journey?
I am very lucky to be working with an experienced team who can share their knowledge, provide support and help me to be the best I can be. I also have an amazing coach and tutor who are guiding me towards my end point assessment. They have helped immensely and taught me lots of things about becoming a successful Business Administrator.
Furness College Principal and Chief Executive Professor Andrew Wren said there is no age barrier for an apprenticeship and, alongside apprenticeships for school leavers and those who want to change career direction such as Vicky, there are also higher apprenticeships and degree apprenticeships as a proven route to develop higher level skills.
He said: "It has been a tough year for many and we know that there is a lot of uncertainty around jobs. But an apprenticeship could provide the career springboard people are seeking. It's a real positive that the Government has pledged its commitment to apprenticeships by offering additional funding of up to £2,000 for employers to take on an apprentice. The town has a strong tradition of supporting apprenticeships – particularly in engineering – but we have a whole range of options including accounting, business administration, hair and beauty, construction, IT and early years education. Employers can also receive the benefits for recruiting apprentices who have been made redundant due to Covid-19 and who are ready to hit the ground running."