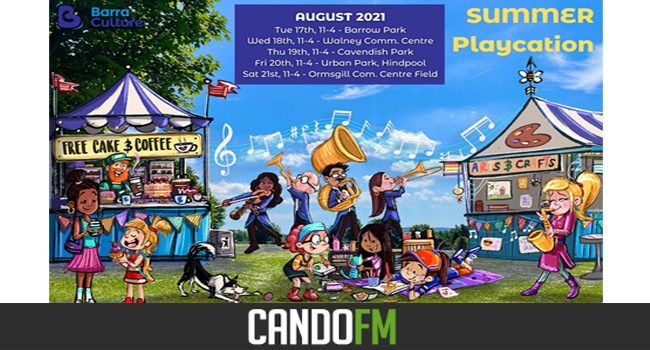 Come down to the PLAYCATION events hosted by Barra Culture that are happening near you this week and meet the CandoFM team!
It's going to be like a staycation, but better, PLAYCATION is coming to a neighbourhood near you:
Tuesday 17 August 11am-4pm Barrow Park
Wednesday 18 August 11am-4pm Walney Community Centre
Thursday 19 August 11am-4pm Cavendish Park
Friday 20 August 11am-4pm Urban Park Hindpool
Saturday 21  August 11am-4pm Ormsgill Community Centre Field
Playcations for Barrow Residents This Summer
Barra Culture has created Playcations for Barrovians to enjoy arts and culture in their local neighbourhoods.
The playcations are completely free family-friendly mini-festivals and will be held from 11am-4pm in Barrow Park (17 August) Walney Community Centre (18 August) Cavendish Park (19 August) Hindpool Urban Park (20 August) and Ormsgill Playing Field (21 August).
Local people will be able to enjoy music performances from trios of musicians from The Northern Chamber Orchestra, who will entertain audiences as well as getting people's opinions on what music they'd like to hear at future events. Popular local saxophonist Emma Howarth, who has performed to critical acclaim all around the world, will be jazzing it up and chatting to local people as she goes. CanDo FM have created a Barrow Summer Playcation Playlist and will be at the events pumping out the music for everyone to dance along to while they play, chat and have fun!
As well as the music, people of all ages can get creative with drop-in arts and crafts sessions, drama games, and animation workshops. There'll be the opportunity to make noise from a chopping board orchestra or, for a more reflective experience, create poetry guided by expert practitioners. There'll be fun games to play and plenty of coffee provided by The Well. The events will be supported and run with Barrow arts organisations, artists and practitioners including Signal Film and Media, Art Gene, Full Of Noises, Theatre Factory and The Forum.
And there's no need to worry about those August Cumbrian showers – the events will all be under cover and will take place come rain or shine!
Daniel Tyler-McTighe, Director of Barra Culture, says "We've been getting to know local people and organisations over the past year and it's going to be fantastic to celebrate with everyone as we start to emerge in our different ways from lockdown. There will be a party-like atmosphere at these events in a completely safe way so that everyone can enjoy themselves in their own local neighbourhoods. And don't miss the free cakes!"
The events are all free and suitable for all ages.