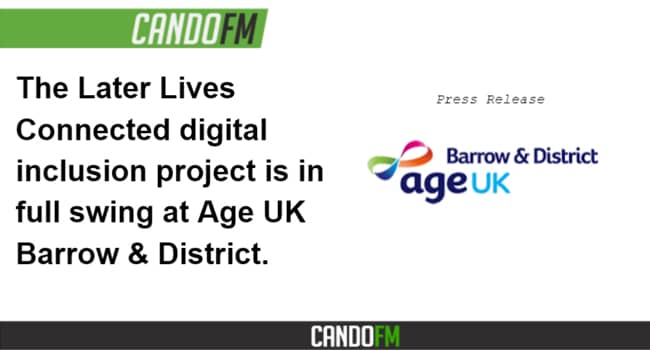 Age UK Barrow & District Digital Champions
The Later Lives Connected digital inclusion project is in full swing at Age UK Barrow & District. There are a number of ways we can help older people get online starting with Technology Lending and our Digital Champions.
Technology Lending:
The first step on your digital journey might well be the need of some technology.
Age UK Barrow & District have several tablet devices, fitted with 4G internet connection so we can help you get online. Popular apps will be preloaded onto the devices, and you will be shown how to work it.
Digital Champions:
If you have access to a digital device the next step is to know how to get the best from it. Digital technology can change rapidly, and it is important to keep up with these changes.
Age UK Barrow & District have a group of Digital Champions that are there to help you.
There a number of ways to get help from our Digital Champions.
We are at Dalton Community Centre every Tuesday morning and Bram Longstaff on Barrow Island every Thursday morning. You can book a one hour session with a Digital Champion by phoning Thomasina, the Later Lives Connected Project Technical Coordinator on 07547 254919.
You can also book either a phone call or arrange a one to one session at our office in Lakeland House to help you with your digital problems.
Contact us on 01229 831425 or email shaun.blezard@ageukbarrow.org.uk for more information.