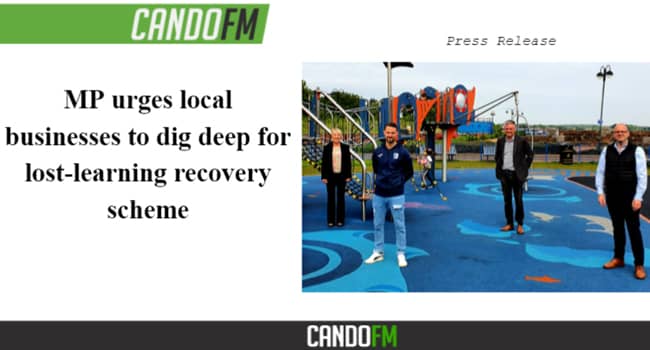 Barrow and Furness MP Simon Fell has urged local businesses and charities to fund holiday provision plans to help young learners recover from the disruption that covid has caused in the classroom.
On Saturday, Mr Fell met local headteacher Caroline Vernon and former Barrow MP John Woodcock, now Lord Walney, to give his backing to their fundraising drive for activities this summer and each school holiday through the year.
The ambitious project, led by the Furness Education and Skills Partnership, involves asking businesses to help finance support for children who have been isolated during lockdowns and can often fall further behind during holiday periods. It is developed from the Furness Future Leaders' Academy scheme which was founded by Lord Walney when he was an MP that was funded by local organisations.
Mr Fell said: "I am delighted to see the whole community pulling together to address the education emergency caused by a year of disrupted learning during the pandemic. Everyone has lost out during this dreadful year but our children need particular support to get back on track, particularly students who might not have had ideal learning conditions at home.
"In previous years, the future leaders' academy demonstrated that businesses and charities in this area recognise a responsibility to help their future workforce reach their full potential. But the need is greater than ever as we emerge from the pandemic, with so many children becoming less engaged with learning during these difficult months or losing the confidence and mental wellbeing that is essential to successful learning. I realise that times are hard for many local businesses and but I urge anyone who can to help fund this vital project."
After deciding to pause the leaders' academy summer school last year, FESP has teamed up with Barrow AFC community Trust, to deliver an adapted model of holiday provision on several sites during five school holiday periods. The support has been targeted at what was seen as the most pressing challenge of helping young people to stay positive and connected to learning during the pandemic.
FESP chair Ms Vernon said: "The young people in our area do not have a second chance at education we are eager to support as many of them as possible to regain learning confidence and develop the attributes, skills and motivation to make rapid academic progress.
"We are seeking funding to deliver the programme which prioritises mental health, physical wellbeing and the key skills for highly effective learning, during each of the holiday periods from July 2021 to March 2022. If funding allows, this programme will be available free for up to 480 pupils, equipping them to recover and reconnect. The potential benefits to our community of engaging young people in positive activity, at this critical time, should not be underestimated."
Lord Walney said: "It is great to have Simon's support for this vital project. This is the critical moment where a generous response from local organisations will transform the amount of support that FESP can deliver in our schools. Teachers are working flat out and running on empty after this crazy year so the need for extra support to help our young people learn is greater than ever.
"For generations, young people in Barrow have left school with qualifications below the national average. Let's seize this moment post-pandemic to close the gap and level up the town rather than risk our young people falling further behind."
Local business or organisation who would like to support the project are encouraged to get in touch with Ms Vernon for more information at Chair@fesp.co.uk
As well as financial support, the academy is also seeking volunteers and mentors to support young people throughout their learning experience.