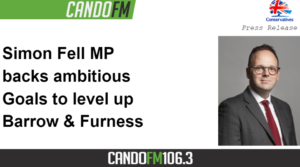 SIMON FELL MP BACKS AMBITIOUS GOALS TO LEVEL UP BARROW & FURNESS
Simon Fell MP is supporting a new set of ambitious goals aimed at improving people's life chances and access to careers in Barrow & Furness.
The 'Levelling Up Goals' are the practical response to the agenda to level-up Britain in the recovery from Covid19. They have been designed by a former Cabinet minister alongside Britain's leading businesses and universities to pinpoint key challenges that, if resolved, would create a level playing field on life and job opportunities..
Former Secretary of State for Education, Rt Hon Justine Greening, developed the Levelling Up Goals with the aim of improving life chances, from early years through to adulthood.
Justine Greening has campaigned to level up Britain – by spreading opportunities more evenly across the country – for years and in 2018 she co-founded the national Social Mobility Pledge with entrepreneur and philanthropist, David Harrison. The Levelling Up Goals are chaired in Parliament by Robbie Moore MP.
The Levelling Up Goals include closing the gaps in literacy that emerge in early school years as well as tackling the digital divide and building up personal financial security.
The 14 Levelling Up Goals are intended to set out how the ambition to level up Britain can be achieved. Targets and measurements related to the goals are being developed by the Social Mobility Pledge in coordination with the University of York.
Between 2012 and 2016, Justine Greening was the UK's International Development Secretary and during this time, she worked alongside the UN and 184 international partners to agree the 17 Sustainable Development Goals. The SDGs were designed to be a "blueprint to achieve a better more sustainable future for all."
She hopes the Levelling Up Goals will provide the same framework for government, education, businesses, communities and others to get behind and address the long running lack of social mobility and inequality of opportunity that exists in Britain.
Rt Hon Justine Greening said: "If Britain is to achieve levelling up, I believe that we need a galvanising set of Levelling Up Goals that can unite Parliament, business, communities and civil society to work in partnership for the common good of our country. These goals give us a clear set of objectives to level up communities.
"Time is of the essence. Covid19 has levelled down our country and therefore made levelling up not only more urgent, but even harder. Whilst the solutions may vary, I believe that these Levelling Up Goals can transcend party politics and set clear objectives for the recovery we need to achieve in our communities. In particular, I know that for different communities, different Levelling Up Goals represent far greater challenges than others. With a clear understanding of the challenges we can work towards building the recovery in local communities."
"It's great to have MPs like Simon Fell committed to playing their leading role in supporting the local recovery from Covid19. Levelling up is ultimately about change on the ground in communities up and down this country. Simon's support will be absolutely vital. From mental health to supporting our young people to get their schooling back on track, we can work together to make real progress in the recovery from Covid-19."
Commenting from Ulverston, the Furness MP Mr Fell said:
"I was elected in 2019 to level up this fantastic community. In the first twelve months we've secured funding for a new bypass at Grizebeck, £25 million for Barrow as part of the Brilliant Barrow Town Fund project and both Dalton and Ulverston are in for £3 million each as part of the Borderlands Place Programme.
"The fourteen levelling up goals are consistent with our own aspirations and my plan for Furness. No matter your background, everyone should have equal opportunity to excel and achieve. The levelling up goals are about giving everyone a chance and a fair opportunity. I am only too keen to sign up and lend my support to the campaign."
For more on the Levelling Up Goals, please visit: www.levellingupgoals.org