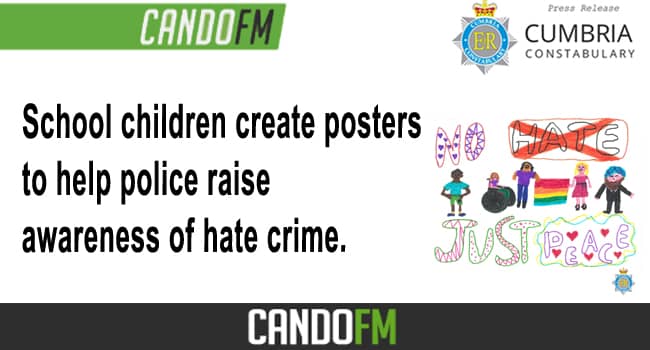 On Saturday (Oct 9) hate crime awareness week started and our weeklong campaign to raise awareness of hate crime.
School children across Cumbria have been sending in their artwork to help the force raise awareness, with a winner being selected by the Chief Constable Michelle Skeer.
The winning poster and others will be shared on the force's social media channels alongside key information on what a hate crime is, highlighting the impact on victims, encouraging reporting as well as promoting local support services and resources.
Hate crimes are any crimes that are targeted at a person because of hostility or prejudice towards their disability, race or ethnicity, religion or belief, sexual orientation or gender identity.
Crimes can include, but are not exhaustive to, physical attacks, verbal abuse, damage to property, bullying and threats, abusive gestures and offensive letters, leaflets, emails and texts.
Hate Crime lead for Cumbria Police Detective Chief Inspector Matt Scott said "We know the devastating impact that hate crimes can have on individuals, their family and the local community.
"There is absolutely no excuse for any form of hate crime, and it will not be tolerated.
"I hope the posters produced by our local school children help to educate the public and encourage people to report incidents to us so we can take action.
"We take all hate crime reports seriously and encourage those that have been a victim or have witnessed this type of crime to get in touch with police and report it. All reports are taken seriously and are duly investigated by officers.
"We know that contacting us may feel daunting, we recognise this. If you do not feel you are able to ring us for any reason please to talk to someone you trust, or contact Victim Support, Cumbria Together or report a crime anonymously through the True Vision website.
Cumbria's Police and Crime Commissioner, Peter McCall, said: "Hate Crime is completely unacceptable – no one should be made to feel threatened, anxious or less-than based on their race, gender, religion, disability or sexual orientation.
"Cumbria strives to be a welcoming county for everyone, and we need to work together, as a community, to make this a reality.
"I would urge anyone who has been the victim of a hate crime to report it to 101 or 999 in an emergency.
"Let's work together to make Cumbria as safer place to live, work and visit."