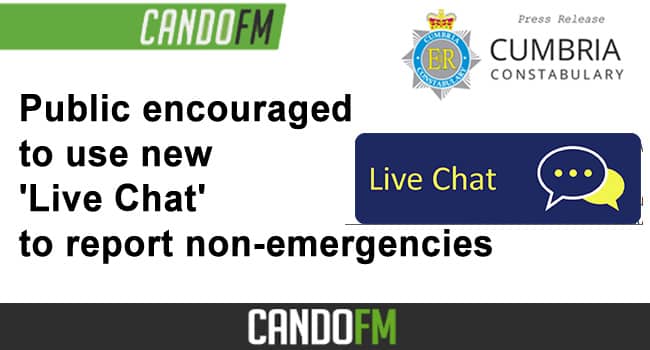 Cumbria Police has launched an online 'live chat' function as part of improvements to modernise the way the public can contact officers.
The live chat will allow people to contact the police regarding non-emergency matters, without having to pick up the phone, during our peak demand times, 9am – 9pm.
Currently, there are already a range of options available to people who wish to contact the police about a matter that is not an emergency or a crime in progress, such as:
The live chat will provide a new option for people, providing a direct, online link to officers working in the force's command and control room at a time and way for people that is convenient to them.
Superintendent Carl Patrick said:
"This development is part of a wider project of modernising the way we operate and improving our service to the public.
"It is right for the public to expect us to make advances in our methods of reporting as technology improves. The new live chat function will give people another easy and efficient way of contacting police officers in our control room, whether they are at home or on the move via a mobile phone.
"The Constabulary is committed to making a success of the live chat, but we ask people to have patience with it during these first days as it is properly bedded in."
Officers in the force control room who respond to live chat enquiries are the same as those who respond to enquiries via email, report online and by phone via 101.
There may be instances – such as if someone attempts to use the live chat to report a crime – where it is necessary for an officer to contact the person by phone.
The live chat will be live from 9am to 9pm, seven days a week. People will know it is online and open when they go to the Cumbria Police home page or the Report It page and find the ' Live Chat' button.
Due to changes in our control room our officers are currently answering 90 per cent of non-emergency 101 phone calls in 20 minutes or less. However, the majority of people who contact the police to report a matter which is not an emergency are talking to a police officer in under five minutes.
Emergency 999 calls are typically answered in under five seconds.
The live chat function must not be used for emergency incidents or crimes in progress. For such reports, people should always dial 999.
Superintendent Carl Patrick said:
"We want to encourage people to use the method of reporting which is easiest and most efficient for them, and, for the majority of people, that will be online.
"The online reporting form already removes the need for someone to wait on the phone for their non-emergency call to be answered and, it is hoped, that the new live chat function will give people swift, online responses to their queries."
Cumbria's Police and Crime Commissioner, Peter McCall, said: "The addition of a live chat to report non-emergency crimes to is a major step in terms of reporting.
"Cumbria Police are facing increasing demand on the 101 system, often with calls which are not policing issues and so it is important to look at alternative means of making contact and making this as efficient as possible.
"The vast majority of non-emergency calls can be dealt with on live chat in the same way as a phone call to 101 so I would encourage those who can, to try this new system. 
"The ability to chat to an officer directly takes away the wait while on hold for 101 calls during busy periods which can only be a good thing.
"Of course, I understand that a small number of people do not have access to online chat and for them of course 101 will remain as an option.
"Like every system, it will take time to get in the habit to use it but I would urge any member of the public looking to report an non-emergency crime to check to see if the live chat option is open, or try to email before calling 101."