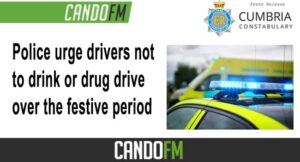 Cumbria Constabulary is urging drivers to think before drinking or taking drugs and getting behind the wheel over the festive period.
Drivers are putting the lives of others as well as their own lives at risk of death or serious injury and face the consequences of losing their license, losing their job, going to court and prison.
Officers can test for drink driving at the roadside, as well as being able to conduct a roadside drugs test and a Fitness Impairment test to see if a driver is unfit to drive through alcohol and/or drugs.
Mobile Support Group Sergeant Callum Young is leading this year's operation, said: "There is no excuse for drink or drug driving. If you fail the alcohol or drug testing, you will face the consequences.
"Our officers in Cumbria are better equipped to catch those who are unfit through drugs – be it illegal or legal prescription drugs.
"Drivers also need to consider that they maybe over the limit the morning after drinking alcohol.
Officers work every day of the year to take drug and drink-drivers off our roads.
Our officers lead on intelligence; Operation Dreadnought identifies dangerous drivers across the county and officers will look to stop those vehicles and check for any offences.
Mobile Support Group Sergeant Callum Young is leading this year's operation, said: "Anyone who drinks or takes drugs before getting behind the wheel has the potential to cause devastation.
"Whilst our officers will always be on the look-out for those who get behind the wheel whilst impaired, there is also a great deal the people of Cumbria can do in support of this.
"Make sure your friends and family are aware of the dangers and the potential consequences. Don't get into the car if you suspect someone has been drinking or is unfit through taking drugs.
"Please call the police if you suspect someone of drink or drug driving. Your call could save their life or the life of another innocent road user
Cumbria's Police and Crime Commissioner, Peter McCall, said "Drink and drug driving is a selfish act that not only places the life of the perpetrator at risk but also the lives of innocent road users, passengers and pedestrians.
"It's simply not worth the risk – if you are out drinking during the festive period please make sure that you have a safe way home.
"I would urge anyone to report a drink/drug driver to the Police on 101, or 999 in an emergency, or contact Crimestoppers on 0800 555 111 and keep your report 100% anonymous.
"The festive period is a time for joy – please do not ruin it by getting behind the wheel of a vehicle under the influence.
"Stay sober, drive carefully and get home safe."
Drivers risk up to six months' imprisonment, an unlimited fine and a substantial driving ban if they are caught driving while above the legal limit. Anyone who causes a death while drink or drug driving faces up to 14 years' imprisonment.