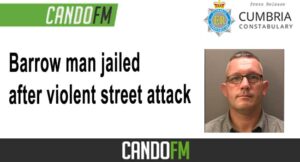 A Barrow man has been jailed for three years after he admitted grievous bodily harm following a violent street attack.
Stuart Wilkie, 45, of Earle Street, Barrow, was sentenced yesterday (15 Feb) after an attack on a man which included stamping on his head.
The assault occurred on the junction of Paradise Street and Ramsden Street in Barrow on 25 August 2021. He assaulted the victim in a revenge attack following a chance meeting.
During the attack, the victim's head was banged into a lamp post, before he was thrown to the ground. The victim was then chased by Wilkie into an alley where Wilkie stamped on the victim's head.
The victim was found by Police unconscious with a cut above his eye, whilst Wilkie was found in a nearby street by officers with the victim's blood on his shoe.
Wilkie was charged by Cumbria Police in August 2021 and was remanded into custody at that time.
He entered a guilty plea at Preston Crown Court on 15th February 2022 – what was due to be the first day of his trial.
Detective Constable Matthew McFall, of Barrow Crime and Safeguarding Team, said: "Wilkie assaulted the victim in broad daylight in front of a number of members of the public going about their day which included children.
"Wilkie chose to take the law into his own hands during what he saw as a revenge assault and subjected the victim to a prolonged attack which has had long lasting impact on the victim's confidence to go out of his home. Yesterday's sentencing demonstrates that this kind of behaviour will not be tolerated, nor will it go unpunished."
In addition to his prison sentence, Wilkie was also instructed to pay a victim surcharge and a restraining order was granted to protect the victim for a period of five years.