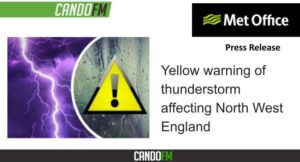 Some places could see slow-moving heavy showers and thunderstorms during Friday.
What to expect
Spray and sudden flooding could lead to difficult driving conditions and some road closures
Where flooding or lightning strikes occur, there is a chance of delays and some cancellations to train and bus services
There is a slight chance that power cuts could occur and other services to some homes and businesses could be lost
While some areas will remain dry, slow-moving, heavy showers and thunderstorms are likely to develop from mid to late morning, before decaying during the evening. Where thunderstorms occur, 20-25 mm of rain is possible in less than an hour, and in one or two places 40-50 mm could fall in 2 or 3 hours. Hail and lightning are potential additional hazards.