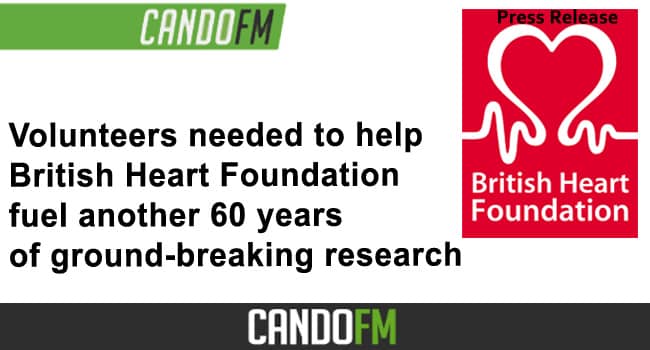 Help needed as furloughed workers who volunteered return to work
Volunteer information session to provide details of opportunities available and the difference volunteers can make
British Heart Foundation is celebrating 60 years in 2021
MORE volunteers are being sought to help raise vital funds for another 60 years of ground-breaking heart research.
The British Heart Foundation is need of more helpers at its charity shops across Cumbria as many furloughed workers who dedicated their time to volunteering have now returned to work.
The charity has enlisted the help of Cumbria CVS to host a Virtual Volunteer Information Session on July 27 from 12pm-1pm. The online event, via Zoom, will provide information about the opportunities available, training, support, benefits and the differences volunteers can make.
The British Heart Foundation, which is celebrating 60 years of saving lives and improving lives, is looking in particular for volunteers to work in Penrith, Keswick, Bowness-on-Windermere and Barrow. Roles include shop assistant, department co-ordinator, digital assistant, driver and fundraiser.
Helen Robinson, British Heart Foundation's Volunteering Manager, says: "We are finding many volunteers who were furloughed and were volunteering have now returned to work so we are appealing for anyone interested in volunteering to register their interest with the British Heart Foundation.
"Our British Heart Foundation shops raise vital funds for heart research and our volunteers help us to save and improve the lives of families and loved ones.
"Whether you can spare a few hours or a couple of days a week, we ensure all our roles are Covid-secure so you can help to beat heartbreak for ever.
"We would love you to join us on July 27 to find out more about volunteering."
Judith Smale, Volunteering Manager at Cumbria CVS, says: "I would encourage anyone that has some spare time and would like to make a difference in their local community through volunteering to get involved.
"The British Heart Foundation Virtual Volunteer Information Session is a fantastic opportunity to meet the British Heart Foundation Volunteer Recruitment Team and find out about the wide range of volunteering opportunities available."
To register email info@cumbriacvs.org.uk or telephone Cumbria CVS on 01768 800350.