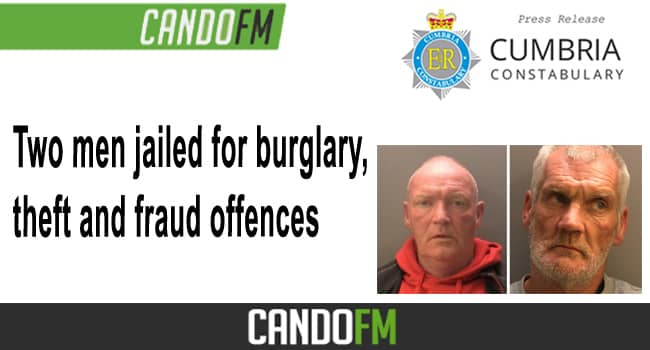 Two men were jailed on Friday (July 23) at Preston Crown court for multiple offences having taken advantage of a vulnerable victim at his home in Ulverston.
Darren O'Connor, 56, of Anstable Road, Morecambe and John Hendry, 59 of Heysham Road, Morecambe was sentenced to five years each. Their sentences are in relation to burglary, twelve counts of fraud by false representation and two counts of theft from an ATM.  Darren O'Connor operated a business called Rapid Clear Pest Control and Rapid Clear Roofing Solutions from Morecambe.
On 11th March 2019 O'Connor attended the victim's property and persuaded the victim they needed work done on his roof. The work was completed to a poor standard the victim driven to the bank and gave O'Connor £2,500 in cash.
O'Connor returned three days later on the 14th of March saying more work needed done and persuaded the victim to hand over another £2,500 via a mobile chip and pin machine and again on the 21st march for £600 unknown to the victim.
On 6th April 2019 Hendry attended the victim's property and made conversation about the building work encouraging the victim to enter his overgrown garden and look at the roof. During this O'Connor entered the address and took the victim's wallet.
The victim noticed his wallet missing and contacted his bank and neighbour.
When the victim checked his bank account transactions had been made totalling £1,853.06 between 2:30pm and 5:30pm that day.
Hendry was arrested on 9th August 2019 and a pair of trainers similar to those on the transactions made were located at his home address. O'Connor was interviewed on a later date.
Detective Constable Jamie Dickens said "O'Connor and Hendry took advantage of the vulnerable victim for their own gain.
"This lengthy jail term shows those that take advantage of those most vulnerable within our communities will be brought to justice.
"Sadly, before justice was brought the victim became ill and passed away. I am pleased we have finally been able to get justice for him and his family.