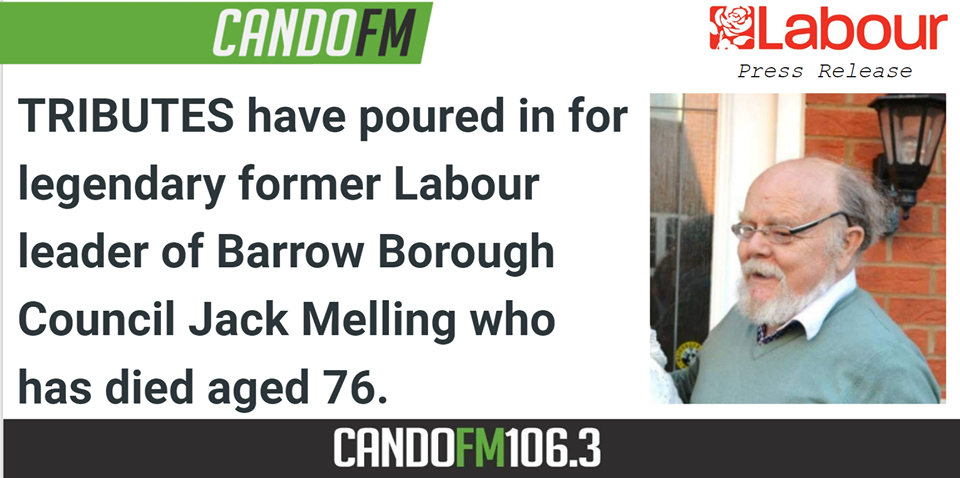 TRIBUTES have poured in for legendary former Labour leader of Barrow Borough Council Jack Melling who has died aged 76.
It is understood that his death is not connected with Covid-19.
Mr Melling died at his home in Barrow on Friday.
The revered Labourite is remembered for delivering the longest-ever reply to a question when he was council leader in the 1980s.
His response lasted for more than an hour and it is a record that still stands.
After stepping down from the council Mr Melling operated as a caseworker in the Hartington Street office of MPs John Hutton and John Woodcock before retiring some years ago.
Mr Melling was born in 1944 in Lostock Hall, Lancashire, and moved to Ulverston with his wife Rebecca in 1983.
They relocated to Askam before settling in Barrow along with daughter Louise in 2001.
Leading the tributes was Barrow Borough Council leader Ann Thomson who said: "Jack was already a councillor when I was elected in 1990. He was leader of the council for a time and was chair of the planning committee.
"His claim to fame was an over-the-hour answer to a question put to him at full council. It is still the longest answer in the history of the council.
"I worked with Jack for many years in the Labour office in Hartington Street and classed him a friend. I send my condolences to Rebecca and his family, they will be in my thoughts."
Veteran Labour councillor Anne Burns said: "I have known Jack for over 35 years and loved to have a debate about the politics of the day.
"Jack was a very caring man. He worked hard over a number of years making sure people with learning disabilities had a voice.
"Jack was a very able councillor, speaking for the rural areas of Dalton and Askam.
"He led the Labour group on Barrow council at a time when there was a lot of turbulence but Jack did a great job.
"My thoughts are with Rebecca and Jack's family at this very sad time."
Councillor Hayley Preston said: "I got to know Jack when he was working for the MP as their caseworker. He was a passionate member of the party and worked extremely hard for the people of Barrow.
"His sense of humour was infectious as were his many stories. Jack will be missed, not only by the party but the residents of Barrow. I will be forever grateful to Jack for helping me on my way on my own political journey. Our thoughts are with his wife and daughter, whom he often talked about while working on cases at Hartington Street.
"Rest in peace comrade."
Also paying tribute were former Barrow mayors Bill McEwan and Tony Callister.
Cllr McEwan said: "Our thoughts are with Jack's family and his friends. He was a true comrade and a legend. May he rest in peace."
Cllr Callister added: "Jack was a very knowledgeable fellow, rest in peace."
Former Hartington Street office manager Terry McSorley said: "I was greatly saddened to hear of the loss of Jack to his family. He was a much-loved husband, father and grandfather as well as a great friend to many. Jack worked with Jane Murphy, Danielle Parker, Frank Cassidy and I for John Hutton MP for a number of years and helped an enormous number of people when they were often most in need of support.
"Although he was a somewhat diminutive figure if people were measured in kindness and care he would be considered a giant. He cared about people and he cared about his adopted community of Barrow and Furness, serving on Barrow Borough Council as well as working tirelessly of the local Member of Parliament as a case worker.
"He was dogged in his determination to see fairness done on people's behalf and if Jack could do someone a good turn he would not hesitate. He will be a massive loss to his family who I know loved him dearly, his many friends in the area and to the community he served so well."