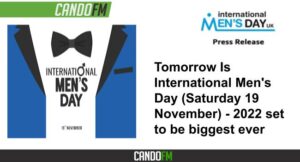 In the UK, the team behind International Men's Day (Saturday 19 November) believe 2022 will be the biggest ever involving over 400 organisations. The likelihood that the public support will surpass 2020  and 2021 where there was a huge response on social media (175,000 #internationalmensday tweets) and attendance at meetings, conferences and service launches. Events are happening across the UK in the week before and the work after, as well as the day itself.
The event is used as a platform for organisations and the public to focus on men and boys' wellbeing, support charities working in this area and also to promoting a positive conversation about men, manhood and masculinity.
International Men's Day in the UK has grown over the past decade from just 12 organisations being involved in 2012 with the Men and Boys Coalition charity responsible for the event platform. There are now community events, mental health discussions, award announcements, student events, charity promotion campaigns, political events, lectures, conferences, staff support days, film showings, get-togethers and fundraisers. A debate is also set for Thursday 17 November in the House of Commons
Many of the events run by employers, charities and universities are focussing on mental health and other health issues which are especially important given that 13 men die by suicide every day,  33 die due to prostate cancer every day and 88 per day die prematurely from heart disease. Boys are also behind girls throughout education, 85% of rough sleepers are men and over 750,000 men suffer from domestic abuse every year (see ten key facts: https://ukmensday.org.uk/key-facts/). There are 80,000 men in prison and 3,000 boys are excluded from school every year.
Many charities are  also using International Men's Day to launch new services, campaigns and research with sports clubs (including football) using it to encourage their fans to seek help and talk if they are struggling.
Mark Brooks OBE, National Ambassador of International Men's Day UK, said:
 "The fact that so many organisations across the UK have embraced International Men's Day again this year shows how much the wellbeing of men and boys matter. It is a time where everyone can come together and focus on recognising and finding solutions to the issues they face – the hallmark of an inclusive society.
"International Men's Day also provides an important opportunity to showcase the brilliant work of charities that support men and boys which are growing in number and in scale. Many are using the day to launch new services, campaigns and initiatives." –
"We are also expecting a huge response again from the public especially on social media to urge men who need support to reach out and talk. It is expected that again there will also be thousands of women marking International Men's Day with warm messages about how important their fathers, brothers, sons, male friends and colleagues are to them.
"International Men's Day is an inclusive platform and fully supports International Women's Day. Many, of events and social media activity are Ied by women. This shows men and boys, and, women and girls recognise they share their lives society together."