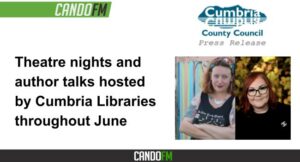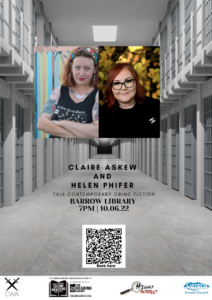 Cumbria Libraries are celebrating National Crime Reading Month this June with a series of murder mystery live theatre nights and fantastic author events featuring local crime writers.
Cumbria Libraries will bring readers the very best historical, contemporary, and psychological crime by local authors to get everyone in Cumbria to #PickUpAPageTurner.
The murder mystery live theatre nights, delivered by Carlisle based theatre company Highly Suspect, will be held in Cumbria's libraries throughout June.
Those who want to get involved can apply for a ticket to attend in person, or watch the author talks that will be live streamed through Cumbria's Libraries and Archives Facebook page.
Go to www.crimereading.com to find out what's happening in your area. Tickets are available from your local library. You can also follow @CumbriaLibrariesandArchives on Facebook to keep up to date with what's on.
National Crime Reading Month is an initiative developed and run by the Crime Writers' Association which aims to bring new books to existing readers and new readers to the world's most popular and best-selling genre.
Hannah Clarke, Library Outreach Project Officer, said:
"Cumbria Libraries are excited to bring you a fresh look at crime, where there really is something for everyone.
"We can't wait to welcome the people of Cumbria to these wonderful events and we're so excited to be joined by a range of popular, local authors such as MW Craven, Jean Briggs, Deborah Swift, Claire Askew, Caroline Moir, Tom Ashton, Matthew Booth, and Helen Phifer."
Cllr Deborah Earl, Cabinet Member for Public Health and Local Communities, said:
"These events will be friendly and informal; people can meet with authors and ask them any questions they have. The Highly Suspect murder mystery evenings will bring another element of fun and interactive live theatre experience. It promises to be a great night out!"