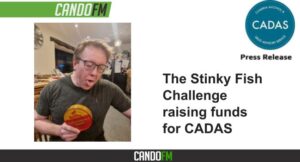 Roasted coffee beans, fresh baked bread and sizzling bacon are food smells which make your tummy rumble with excitement. But let's forget about those and talk about surströmming, one of the world's smelliest foods, which tastes pretty good, but its strong rotten egg smell will make you feel sick before you even get to try it!
James Titterington, the owner of JT Construction, is putting his tastebuds on the line later this month in an attempt to eat this disgusting, smelly fish, to help raise money for CADAS (Cumbria Alcohol and Drug Advisory Service) – a countywide drug and alcohol support service that focuses on both reactive and preventative community support.
James's aim is to raise a minimum of £2,000 before he'll even attempt the stinky fish challenge on May 21 in Kendal. "I can't say I'm looking forward to it, but it's all for a good cause. CADAS do offer a fantastic service, helping those that need it," commented James.
Surströmming is a lightly salted fermented Baltic Sea herring, which has been a traditional Swedish cuisine since the 16th century, usually eaten in a sandwich with potatoes, onions and sour cream. During the production of surströmming, just enough salt is used to prevent the raw herring from rotting while allowing it to ferment. A fermentation process takes up to six months and gives the fish its strong smell and acidic taste.
Leah Davies, Fundraising Coordinator for CADAS, said: "We're here to support James in every step of his fundraising journey and hope that his friends, family, employees and work colleagues get their donations in, to see James step up to the plate.
"The Stinky Fish Challenge will take place Saturday 21 May 2022 at 3pm, at The Duke of Cumberland in Kendal. Come along and watch James take on the challenge, you may want to put your nose plug on as James opens the can to one of the most putrid food smells in the world."
Donate now – visit https://donate.giveasyoulive.com/fundraising/the-stinky-fish-challenge-2022
Please note – a minimum of £2,000 needs to be raised before challenge will take place. If James is unable to eat the Stinky Fish, no refunds will be made.