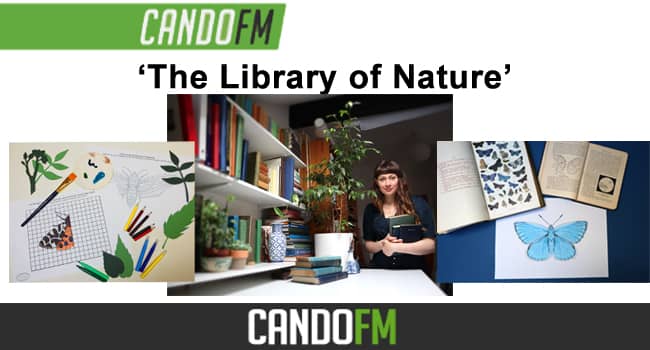 Inspired by her own experiences of home-schooling during lockdown, Ulverston-based artist Eleanor Chaney is creating The Library Of Nature (www.thelibraryofnature.com), an online library of free activities and workshops to inspire children to learn about nature through art.
"During the past year I feel people have been valuing their local natural space more, both as a place to explore and somewhere they can be together with family and friends'" said Eleanor. "Alongside this, I think most of us have sometimes felt trapped inside our houses. I wanted to create opportunities for my daughter and I to do together – things that would connect with the world outside even when we weren't able to be outdoors. And I wanted to share them with other people."
This imaginative virtual library of nature-inspired art activities will grow over time to contain activity sheets, video workshops and drawing lessons.  Families can also join in weekly 'drawalong' workshops on the project's Facebook page (@thelibraryofnature).  During these free classes, Eleanor will be running live workshops demonstrating how to draw local wildlife – upcoming 'drawalongs' include how to draw an Emperor Dragonfly, Peacock Butterfly and Five Spot Ladybird.
"'The Library of Nature' brings together almost 15 years teaching creative workshops, my skills as an illustrator and a love of the natural world to support children in developing their own passions for art and nature," said Eleanor.  "The activities on the website are intended to support you in encouraging your child's interest in the natural world. Workshops they follow indoors will help them learn facts about wildlife, to identify local species and to understand ideas like conservation and ecology. But I hope the spotter sheets and nature journals can also act as a fun family activity to encourage them to get on their wellies and come out for a walk."
The weekly drawing sessions will be held every Sunday at 4.00 pm and will last one hour. They are suitable for everyone, but are designed for families with children aged 5 – 11 years old.
"Basic drawing supplies such as a pencil, paper, ruler and pen are all you need to get started in illustration," said Eleanor "I hope these free workshops will provide support and encouragement for families who would like to start drawing together.  If you'd like to find out more, you can contact me on librarian@thelibraryofnature.com."
The project has been supported by Art Council England which has enabled the first stage of the project to include free classes and workshop.  Eleanor also raised an additional £500 through crowdfunding to deliver virtual workshops to schools in Barrow-in-Furness, with the intention of developing this for schools around the UK.