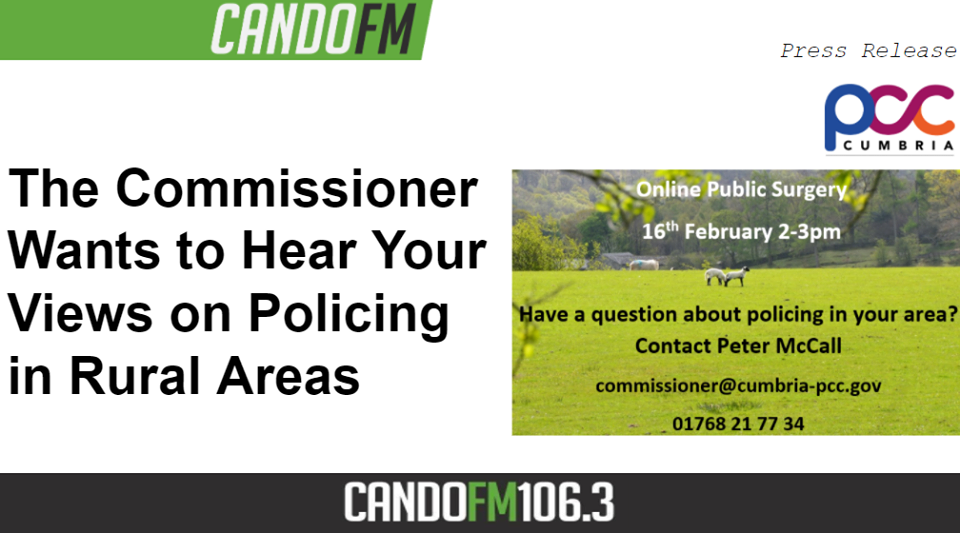 THE COMMISSIONER WANTS TO HEAR YOUR VIEWS ON POLICING IN RURAL AREAS
Cumbria's Police and Crime Commissioner, Peter McCall is encouraging local residents, especially those who live and work in rural areas, villages and hamlets, to contact him directly either over the phone, by email or via social media at his Online Facebook Live surgery 2-3pm on 16 February.
Peter McCall comments: "A large part of my role as Police and Crime Commissioner is to hear the views and policing concerns of the people of Cumbria and I urge people to use this opportunity to chat with me about any ideas, suggestions or issues they may have regarding policing, rural crime or community safety.
"We know that rural crime can have a devastating impact, especially on people that live and work in rural areas. I encourage anyone who has experienced, witnessed or has any information about rural crime to contact the police or give information anonymously to Crimestoppers on 0800 555 111.
"Surgeries such as these, give me a real feel for what people are experiencing out in our communities. It also helps me get a sense of what people see as the policing priorities in their local areas.
"If you have a concern that you would like to discuss or simply want to find out more about what we, as a police force, are doing to support you – please do contact me on 01768 217734 and arrange an appointment over the phone.
"With your information, we can use this to help prioritise what we do to improve the quality of life for those living or working in rural areas. It is important that we all take some responsibility to help keep Cumbria safe and it is only by working together, that we can tackle crime across the county."
If you wish to contact Peter McCall please email: commissioner@cumbria-pcc.gov.uk or telephone 01768 217734 or join in our conversation at the Live Facebook surgery 2-3pm on 16 February.