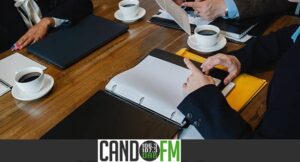 Sustainability and Business Development Manager
CANDOFM is a non-profit Community Radio Station covering the Furness area, broadcasting 24 hours a day on 106.3 FM, 107.3FM, DAB, online and on smart devices.
The radio station has established itself as a credible local media with visible success being achieved for advertising clients already. We are looking for a Sales Account Professional to join us and help continue the success of helping local businesses grow in the Furness area. Revenue from advertising helps to keep the station running, directly and positively affecting our local community. Businesses love this! For the right candidate this could be a dream job
You'll be responsible for generating income for CANDOFM from advertising sales and sponsorships. The role is target-driven, with the main aim being to achieve agreed minimum monthly revenues. You will work closely with volunteers involved in many on-air aspects of the radio station. Non-profit certainly does not mean low standards! The station output supports revenue generation and our clients receive a consistently high quality of service.
The main duties of the role include:
Sourcing, identifying and securing new business opportunities
Establishing and developing long-term business relationships
Generating creative solutions and presenting to clients
Working with clients and the creative team to produce adverts
Reporting to the Station Manager, delivering accurate monthly reports and revenue forecasts
CANDOFM is looking for a candidate that has:
Excellent organisational, sales & business skills – and the drive to sell the confidence and determination to pursue leads, overcome obstacles and secure deals.
Excellent communication & team skills with the ability to be friendly and diplomatic.
Creative thinking and can generate original ideas, an eye for detail, self-sufficiency, the ability to plan and manage workloads and can work effectively under pressure, react quickly, and meet tight deadlines.
Strong IT skills, including word processing and data handling A personality and a smile.
The role requires knowledge of, or the ability to quickly acquire:
Familiarity with the radio station, our programmes and our audience.
An understanding of the role of Ofcom, the industry regulator's knowledge of relevant advertising laws, ethics and industry regulations.
Understanding the relevant copyright and music clearances required.
Understanding of the requirements of the relevant health and safety legislation and procedures.
Flexibility will be required on hours worked to suit the role's needs and agreed on targets. A basic guaranteed salary is offered at £18,000 with a commission OTE of an additional £12,000 pa. This role is offered as self-employed. Own transport required Probationary Period: 3 Months with regular performance reviews
How to apply: The station has a very friendly team of people, who have a laugh and believe in their community. If you feel that you meet the above criteria, send an email to contact@candofm.co.uk with a covering letter introducing yourself, telling us why you're a great match for the job, plus your up to date C.V. by 18/04/22
Job Types: Full-time, Contract, Commission
Salary: £18,000.00-£30,000.00 per year
Schedule:
COVID-19 considerations:
We will make sure conditions are as safe as possible. Video interviews may also be offered
Experience:
Business development: 1 year (preferred)
Sales Strategy & Development Managers: 1 year (preferred)
Sales: 1 year (preferred)
IT: 1 year (preferred)