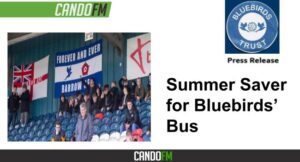 Fans are being encouraged to put money aside over the summer, ready to
jump on the Bluebirds' bus next season.
On Friday, the Bluebirds Trust launched their 'Summer Saver' online
scheme to help Barrow AFC fans spread the cost of coach travel to away
games.
'Saving a bit now will help spread the cost of travel once the season
starts,' said Trust Travel organiser Richard Ingham.  Families have a
lot of expenses around that time so this is just a way of putting a
little aside- it all helps.'
Bus convenor Chris Taylor, who attends most of the away games on the
bus with his son, said 'It's a great idea. When the football stops,
you don't have to if you pay now and save later!'
Summer Saver can be accessed from the Bluebirds' Trust website.
The scheme will last until the first away game of the season and fans
will be able to use the money they have banked throughout the
Bluebirds' 2022-23 campaign in League Two.