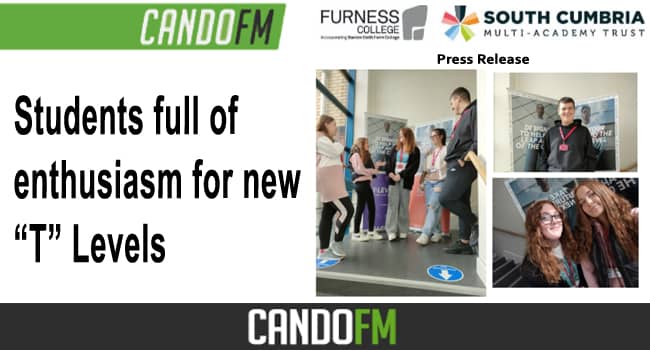 The first ever T Level cohort at Furness College have been talking about their excitement at making history on the innovative programmes.
The new starters have commenced their courses in Health and Education and Childcare at the Channelside campus.
T Levels are a two-year technical qualification following GCSEs and offer an equivalent to three A Levels. They feature a compulsory industry placement to support a student's readiness for employment.
Furness College was among a number of education providers nationally to successfully roll out T Levels this month.
Aspiring teacher Georgia Jones, 17, said she had found out about studying T Levels at an assembly when she was at Dowdales School and knew it was for her.
"I was interested as I'd learn more to do with teaching and gain a qualification equivalent to A Levels. My maths teacher said that I'd be a good teacher, and my family and friends agreed, so she inspired me.
"I'd like to be a primary school teacher as it's a really rewarding career and I like that. The T Level will give me a feel for teaching and the placement will give me some real-life experience to confirm that this is what I want to do."
Furness College is partnering with University Hospitals of Morecambe Bay NHS Foundation Trust and local schools to offer a 45-day industry placement as part of the course.
Leo Myerscough, 16, who has joined college after studying his GCSEs at Furness Academy said he was looking forward to the placement to gain valuable experience.
"I want to teach, so I swayed towards the T Level as it is more suited to me. I always thought I'd teach and I'm hoping to teach Years 5/6. It's exciting that the T Level is a new qualification and the placement really appeals to me so I can get some hands-on learning.
"We've been learning about things such as curriculum, safeguarding and health and safety, so the T Level with supply me with the knowledge I need to give me a kickstart in my career."
Meanwhile 17-year-old Katy-Louise Duff, transferred to the T Level after studying at Ulverston Victoria High School sixth form for a year.
"I studied A Levels for a year – maths, chemistry, biology and dance – but it wasn't really for me, so I applied for a Level 3 course and was advised to apply for the T Level. I'm really glad I did as I'm really enjoying it and I'll gain a qualification equivalent to A Levels, which was my original plan.
"It's a different teaching environment at Channelside and I really like that. We have a smaller group which means we can have really good discussion with our tutors."
Keith Wardle, Head of Area for Health and Education and Childcare at Furness College, said students were full of energy and drive.
"We are delighted to welcome them to campus for what is the start of a new era in education. It's a really strong group of students who are full of enthusiasm for the course and they've already told us they are looking forward to the industry placement and working with employers."
Assistant Principal for Curriculum Sue Hannan said it had been the culmination of two years of careful planning to ensure the courses met the needs of students and the business community.
"To launch T Levels this month is great news. It's an exciting opportunity for the college to help address the skills gaps and ensure students are work-ready with fresh thinking and new ideas."
The college is holding an Advice Session at Channelside campus on Saturday 25th September 12-2pm for more information about T Levels and other courses that have places for an immediate start.
For further details about T Levels contact the college on 01229 825017 or email tlevels@furness.ac.uk