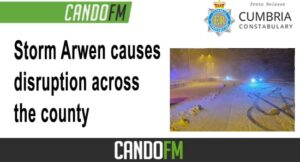 Cumbria police are urging the public to remain vigilant, and to plan their journeys accordingly following damaged caused by Storm Arwen. Roads and streets have been made dangerous by the fallen trees and damage to electrical pylons and telephone lines.
Thousands of homes are currently experiencing power outages due to damage to powerlines. Electricity North West are working to bring power back to people's homes.
Properties in Broughton-in-Furness are being affected by telephone outages. This is affecting landlines starting with 716 and 715. BT are working to resolve this issue. Mobile phones are unaffected.
Cumbria Police report road closures, speed restrictions and urge for driving with caution.
Updates road disruption below:
A685 Grayrigg Village – STILL CLOSED
A591 Hollins lane /Burnside – OPEN
Birthwaite Road, Windermere – OPEN
A6 Selside – STILL CLOSED
A592 Storrs Hall at the hotel – STILL CLOSED
A593 Ambleside, Vicarage Rd, Coniston Skelwith Bridge – STILL CLOSED
A685 Appleby Road Kendal – STILL CLOSED
B5282 Sandside Park Road – STILL CLOSED
A684 Garsdale House Sedbergh – STILL CLOSED
A595 Grisbeck – STILL CLOSED
A595 Calderbridge – STILL CLOSED
A591 St Johns in the vale – STILL CLOSED
Unclassified at Low Moresby – STILL CLOSED
Unclassified Gate mire Rd at Summergrove – STILL CLOSED
B5294 Rheda park Frizington – STILL CLOSED
Swan Hotel at Thornthwaite – STILL CLOSED
B6318 Netherby Rd to Penton – STILL CLOSED
A6071 at Heathersgill – OPEN
Walton near Brampton (electricity pole down) – STILL CLOSED
The C3007 at Thief side – OPEN
The A66 over Stainmore – STILL CLOSED
High roads such as Kirkstone Pass/Wrynose Pass/Hartside Pass remains impassable.
The M6 J37 Northbound has a tree in the third lane.
(This list is not exhaustive)
Cumbria Police are currently experiencing a high volume of calls into the control due to the weather.
Please be aware of the agencies to contact for the following:
Who to contact:
If you find a tree down on a main road please contact Highways England on 0300 123 5000.
If you find a tree down on a minor road please contact your local council (visit your councils website for contact details).
For power cuts contact Electricity North West on 105.
Please contact 101 if you need police assistance. Always dial 999 in an emergency.
Keep up-to-date with:
The weather: www.metoffice.gov.uk
The latest situation on the roads: www.cumbria.police.uk/Traffic/Traffic.aspx