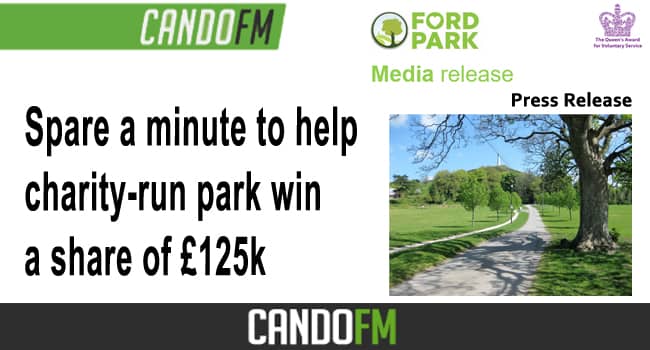 Ford Park is hoping to win a share of a £125,000 cash giveaway thanks to local paper, The Mail – but the well-loved Ulverston greenspace needs public support to be in with a chance.
The charitable arm of the The Mail's parent company, The Gannett Foundation, is providing £125,000 to support local charities across the county and The Mail has a £25,000 share to give away in this area.
Members of the public are to decide where the money should be spent, with the newspaper currently asking readers to nominate their favourite local charities to be considered for a grant.
Now, the team at Ford Park are appealing for people to nominate Ford Park Community Group, as the money would help fund the ongoing day-to-day maintenance and management of the charity-run park.
From grass cutting and insurance fees, to electricity and refuse collection, the small charity relies on donations and support from the public to help fund this essential work and ensure the park is safe, accessible and attractive for all the community to enjoy.
Jill Salmon, Chief Executive of Ford Park Community Group, said: "This fantastic greenspace at the heart of Ulverston is maintained by Ford Park Community Group – a small charity working hard to look after our well-loved park.
"What we have achieved so far would not have been possible without community support, but to enable us to continue protecting the park for future generations, we need to raise money for the ongoing day-to-day management and maintenance of Ford Park.
"If we are successful in winning a share of the 'Readers' Choice Cash for Charities' fund, it would make a big difference to our charity. Ford Park is used daily by the community, from families and children to runners and dog walkers. It is also a popular choice for community and charity fundraising events and festivals. It's an important part of Ulverston's heritage and an essential community asset.
"Please spare a few minutes and help us get a step closer to winning a share of £25,000 by nominating Ford Park."
To nominate Ford Park, simply visit  www.nwemail.co.uk/readerschoice and fill in a nomination form or write to the paper, confirming the name and address of the charity and reason for nomination to: Readers' Choice Cash For Charity Nominations, Newsquest Cumbria, Dalston Road, Carlisle, CA2 5UA by the closing date of Sunday, October 3, 2021
Once all the nominations have been received, The Mail's editor will select eight of the most popular local charities to be featured in this year's grants scheme, before the power is given to the public to decide where the money goes. For four weeks, readers of The Mail will be invited to collect tokens from the newspapers, which will be used to allocate money to the nominated charities.