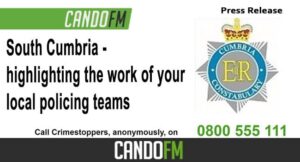 Local policing teams work throughout the year to support the communities they serve by tackling the issues and concerns that matter to those communities.
Crime and anti-social behaviour can have a detrimental and lasting impact on not only those directly affected, but also the wider community. Our officers and PCSOs work tirelessly with communities and partner agencies to ensure residents and businesses receive the best possible local policing service.
 
In South Cumbria officers will be highlighting the proactive work they undertake regularly alongside their partners as part of Neighbourhood Policing Week.
 
It is work that often goes unnoticed but is invaluable in keeping people safe and making people feel safe in their communities. 
Work which will be highlighted in Barrow includes outreach work with local youths with partners from Drop Zone, visiting the Knife Angel with local school pupils to educate young people on the dangers and consequences of carrying knives and carrying out surveys and engagement work in the town centre with businesses and members of the public, to find out more about how safe they feel in the town centre.
 
In South Lakes, there will be multi-agency StreetSafe initiatives in areas including in Kendal, Hallgarth and Kirkby Lonsdale where police and partners target areas identified as of concern by the public. There will also be work with Farmwatch, activities to tackle antisocial driving and multi-agency work to address antisocial behaviour in areas such as Kendal.
 
Superintendent Matthew Pearman said:
 
"Police officers are here 365 days a year and, even in the midst of the pandemic, this is the type of work which goes on every day in our local communities. 
 
"It may not be as celebrated as some other areas of policing but local neighbourhood officers who know their community and can spot emerging issues before they become something more serious are invaluable to policing and to communities, which is why we are so keen to take advantage of Neighbourhood Policing Week to highlight their role.
 
"However, we must also recognise the role of partners in the work of neighbourhood policing. Through the work of Local Focus Hubs, which bring different agencies together including police, fire, housing, councils and more, our officers have never been in a better position to deal with community issues and find effective solutions."
 
Cumbria's Police and Crime Commissioner, Peter McCall, said: "This week, the National Police Chiefs Council (NPCC) are highlighting the vital services of our neighbourhood policing teams, which is important, as much of the work goes unseen, to shine a spotlight on the great work being done within our communities.
 
 "The heart of neighbourhood policing is their desire to help people. They support us, aim to prevent problems before they happen and strive to keep our communities safe. 
  
"Neighbourhood policing involves understanding local problems that may cause harm or threaten the safety of others. Their role is to identify issues, work with partner agencies and to support vulnerable people, at a time when it is needed most.
 
 "We also need to remember that these officers are people too, and their willingness to risk their own safety to protect others, is brave, courageous and credit to their commitment to the job and they are able to do that best when we the public, work with them as a team."
 
Please report any incidents of crime or anti-social behaviour to us, to help our policing teams keep South Cumbria safe.
 
You can report online at www.cumbria.police.uk/report-it. 
 
Our online Live Chat function is a new service giving you an alternative way to communicate with a Police Officer in real time. For more information, please visit www.cumbria.police.uk/report-it/101-live-chat. 
 
If a crime is in progress always call 999.
 
You can also phone on 101.
 
Alternatively you can contact Crimestoppers, anonymously, on 0800 555 111.