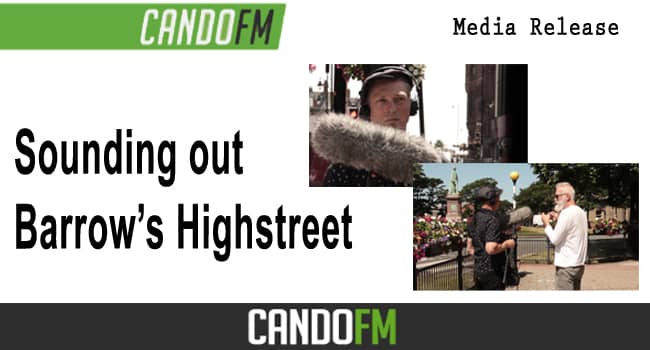 The unique sounds of people and places in Barrow have been recorded for posterity and to enjoy on a new walk around the town.
Barrovia is among a series of self-guided, immersive sound walks launched by Historic England, the National Trust and Sound UK.
The soundwalks will help people discover the magic of their local high streets and experience their sounds, past and present. They have been produced in six High Street Heritage Action Zones in the UK launched as part of Heritage Open Days which run from September 10-19.
Barrow's High Street Sound Walk has been co-created by sound artist Dan Fox and the community in association with Full of Noises, a sound art and new music organisation in the town.
Over the summer, they've been recording Barrovians memories of events and places which can be downloaded via smartphones or other devices following the launch at Barrow Library on September 10 from 11am-1pm.
Barrovia explores the diversity of Barrow's high street and how it has changed. Listeners can take a journey among landmarks of work and play  including iconic shops, businesses and clubs.
"It's been great to be involved with the Heritage Action Zone and create Barrovia," said Dan.
" I've been based in the Furness area for many years so have tapped into my local connections including artists, musicians, writers, archivists, architects, teachers, residents and shopkeepers. Through their voices, Barrovia gives us the history of Barrow and the Heritage Action Zone. It includes not only the factual history but also personal experiences from living memory and stories passed down through family."
Despite Covid restrictions, Dan recorded all contributors on location in Barrow, mostly outside using a boom pole to create a distance between him and the interviewees.
He delved into his own sound archive of Welfare State International material including recordings of Barrow Town Hall's centenary in 1987 and On The Loose playing at the Rock The Boat club in Cornwallis Street.
"Barrow is seen as an isolated place but the stories I have gathered tell of a more outward looking town, built by immigrants," Dan explained.
"People in Barrow have many varied skills including a local drummer who toured with Phil Collins and a guitarist who played with The Who when they gigged on Cornwallis Street. It is also re-inventing itself with local artists producing paintings inspired by the history and landscape, record shops selling their wares all over the world and an architect working out how to save the burned out ruin of the earliest purpose built working men's club in Britain."
Barrovia and the other High Street Sound Walks are available via the Historic England website from September 10: https://historicengland.org.uk/soundwalks  SoundUK are producing a poster/map for display in Barrow with a QR code leading directly to the website.