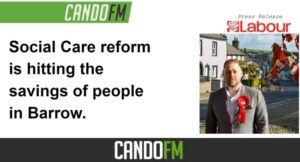 Barrow and Furness Labour Party has challenged Simon Fell to explain how the latest amendment to the new Social Care Bill by the government will help level up people in our area?
Barrow-in-Furness pensioners, and other ill and vulnerable people, receiving social care are set to be among the hardest hit in the country due to a change in its reform, where the majority of their counterparts in London and the South East will be better off.
Economist Sir Andrew Dilnot, who previously worked for the government on social care criticised the move and said, "Essentially what this change does is for those who have long care journeys for significant care needs, it means that the less well-off will not gain any benefit from the cap." He added, "It finds savings exclusively from the less well-off group."
Chris Altree, Chairman of the Barrow and Furness Constituency Labour Party agreed, "If your home is valued at less than £186,000, it has been calculated you will lose out on the benefits the Tories claim will come from their reforms. This will happen right across the North, and in Barrow, where the house price average is just over £155,000, it is easy to see people will not be better off."
Mr Altree continued, "The negative effect of this amendment will not impact upon homeowners in constituencies in London or the South East. In Greater London house prices average over £670,000 so once again, we see that Conservatives are much more concerned with protecting the wealthy at the expense of ordinary people in our area. So much for levelling up!"
With the average care home stay lasting less than two years, the figures suggest many more low-income people will pass away before reaching the cap.
Boris Johnson described the offer as 'incredibly generous' as this heartless Conservative government faced a backbench revolt on the changes from their own MP's.
Department of Health and Social Care analysis said it would save the Treasury £900m a year in 2027 compared to what was planned.
The change was introduced late in the passage of the Health and Care Bill and was voted through the House of Commons late on Monday 22nd November.
Mr Altree added, "We in Barrow and Furness Labour challenge our MP, Simon Fell, to explain to our community how this change to the bill will help the most vulnerable in our community, and how it is levelling up the North? Would he have voted for the amendment and, if so, why?"