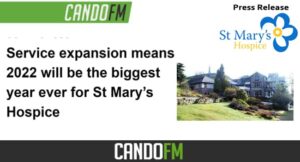 St Mary's Hospice is expanding the services it offers to the South Lakes and Furness community — with new jobs available to help meet demand.
A new dementia service — one of the first of its kind in the area — will launch early In 2022.
To help get the hospice ready for that development, two exciting new senior nursing roles are already available, with recruitment of the specialist dementia nurse and support staff to follow early in the new year.
Chief Executive Val Stangoe said: "We aim to offer more services, to more people, each year — and with the dementia service ready to launch, it is a really exciting time for us, and an exciting time for anyone to join St Mary's.
"Before we launch the dementia service, we've got to make sure we're in the best shape we can be to continue growing without ever straying from the excellent level of care we provide, and upon which we've built our reputation in the local community.
Two new senior nursing posts have been created — a Quality Assurance role and a Practice Educator role.
These are already being advertised, and are at sister/charge
nurse salary level. Specific roles for the dementia service will also be advertised soon.
In addition to those new posts, the Hospice's long-standing Head of Clinical Care and Education, Jo Blake, is due to retire early in the New Year, and finding a suitable replacement is also high on the list of priorities for St Mary's.
"Jo has been such a huge part of what we've been able to do here, that she's virtually irreplaceable," Val said. "We're gutted to be losing her, and really glad that she's here to help us recruit into her post, and the two new senior nursing posts which will report into her replacement."
St Mary's is also looking for a new clinical administrator to join the team, on a fulltime basis.
Jo Blake said: "In many ways my retirement is bittersweet — I am ready to retire, but I know that I'm leaving St Mary's at such an exciting time.
We are expanding service provision and really delivering on our commitment to help more people each year. I feel the dementia service, for example, will be transformational for the increasing
number of people in our community who suffer from dementia, and their families.
"Covid has been hard for everyone in healthcare, it has taken its toll on us all; but the attitude and commitment from the staff at St Mary's has been fantastic. They've really delivered and keep on delivering.
I'm really proud to work with such great
professionals. I couldn't recommend working here highly enough."
To find out more about the roles available at St Mary's, visit www.stmaryshospice.org.uk/jobs/current-vacancies/