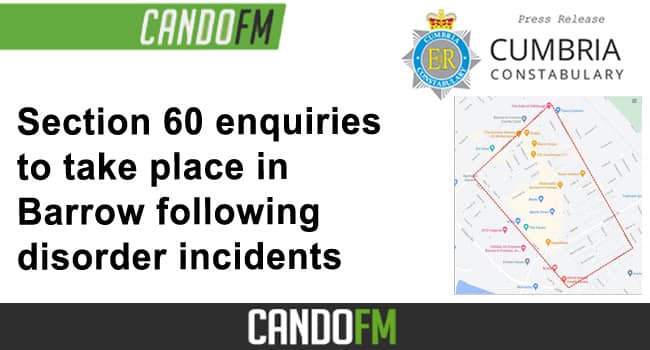 Police in Barrow are investigating two incidents of disorder that have occurred in the town's Greengate Street and Church Street areas.
Two men, aged 25 and 27, were arrested on suspicion of assault following a response to a report of men fighting in the vicinity of Greengate Street on 21 July, shortly before 11pm. Both men were questioned by officers and were subsequently bailed.
Police received a further report shortly after 11pm last night (22 July) of a group of men fighting in the street on Church Street. The group dispersed upon police arrival.
An investigation is ongoing to establish the full circumstances of both incidents.
A Section 60 order has been authorised in Barrow this evening (23 July).
The order will begin at 6pm and will be in place for 24 hours, where it will be reviewed and could be extended.
The order is in place for the area as shown in the map, which is the area bounded by Abbey Road, Rawlinson Street, Ramsden Street and Duke Street.
Chief Inspector Annette McClement said: "This Section 60 order has been put in place in response to two incidents which involved a number of people.
"The order is put in place to reduce the risk of serious violence and offending from taking place, and is made under the Criminal Justice and Public Order Act 1994.
"Incidents such as this are completely unacceptable in our communities and we will do all possible to make sure people are safe.
"Section 60 orders enhance the stop and search powers of officers, allowing them to search people without needing to suspect that they may be carrying weapons. This means that there will be an increased number of officers in the area while the order is active.
"I'd also like for any witnesses, or anyone with information on either incident to contact us."
Contact Cumbria Police referencing incident 278 of 21 July or incident 280 of 22 July.
Report online: www.cumbria.police.uk/reportit
Or call non-emergency number: 101
Or Crimestoppers anonymously on 0800 555 111.
Always call in an emergency 999