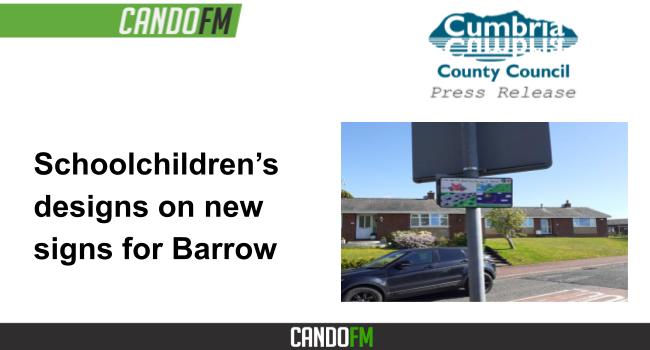 Cumbria County Council has installed some special new road signs outside some local schools in Barrow.
The 'Active Travel' signs have been designed by local school pupils as part of a poster competition, earlier this year.
Children were asked to submit posters and drawings showing the benefits of cycling, walking, or scooting to school, rather than taking the car.
The competition was part of the Active Travel plans project in Barrow, looking at cycling and walking infrastructure improvements on Michaelson Road and Bridge Road.
The lucky winners all received vouchers worth £200 from Halfords.
The signs can be seen outside Yarlside Academy, St James' C of E Junior School, South Walney Infant and Nursery School and South Walney Junior School.
Cllr Keith Little, Cumbria County Council's Cabinet member for Highways and Transport, said:
"The competition was very well received, and the winners all deserve a lot of credit for their work. These signs are now proudly displayed outside the schools.
"The project is on track, and the new cycle paths at Bridge Road and Michaelson Road will be finalised by the end of July. Whenever we travel, it is important to consider how we travel. If we can become more active and reduce driving by car, this will improve the air quality, and we will all be healthier as a result.
"With the right infrastructure in place, we hope that this will encourage more people to cycle and walk for short daily trips, such as popping to the shops or taking children to school.
"Thank you to all the residents of Barrow who have been patient and understanding as we make these improvements and well done to the children for such fantastic designs!"
For more information regarding cycling and walking in Cumbria – please go here: Cycling and walking in Cumbria | Cumbria County Council