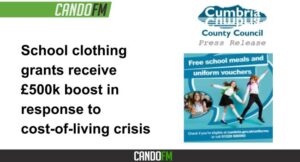 Cumbria County Council's cabinet has approved a significant increase to school clothing grants in response to the cost-of-living crisis.
£500,000 worth of additional funding has been allocated to the school clothing grant fund as part of a new £2m cost of living reserve fund.
This means that eligible parents will now receive a clothing grant worth £50 for each primary school child, up from £25, and £100 for each secondary school child, up from £35.
Applying online for free school meals and school clothing grants is quick and simple – the whole process takes around five minutes. Once approved, the council will send parents a voucher which they can redeem for cash at the Post Office, giving them the choice of where to buy school clothing.
If you were already receiving free school meals before the COVID-19 outbreak, you do not need to re-apply for free school meals or clothing vouchers.
Parents can apply online at www.cumbria.gov.uk/uniforms If you are unable to apply online, please call 01228 606060 for further details.