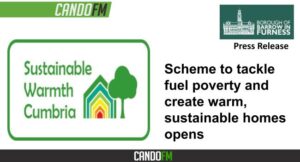 A SCHEME to address fuel poverty and improve energy efficiency to create warm and sustainable homes across the county is now live.
Earlier in the year, a consortium of district councils across Cumbria received £19.95 million in Government funding to help make a difference to thousands of householders in the county.
Now, residents in properties with poor energy efficiency in the borough will receive letters highlighting the scheme. However, anyone can apply for a grant – not just those who receive a letter – with all householders urged to check the criteria to see if they are eligible.
Owner-occupied households that meet the scheme's criteria could receive grant funding of between £10,000 and £25,000 to retrofit energy efficiency measures to make their homes warmer and more sustainable.
The scheme includes FREE energy efficient measures, such as:
·                     External wall insulation.
·                     Internal wall and room in roof insulation.
·                     Air source heat pumps (Low Carbon Heating).
·                     Ground source heat pumps.
·                     Solar PV.
·                     Cavity wall, underfloor and loft insulation.
·                     Smarter heating controls.
·                     Single to double glazing.
Councillor Ann Thomson, the leader of Barrow Borough Council – part of the consortium of councils – said the scheme could benefit hundreds of residents across Barrow.
"We know that fuel poverty is a serious and worrying issue for many people across the borough. Increasing fuel costs are impacting heavily upon household finances but there's also the unacceptable cost to people's physical and mental wellbeing," she added.
"This scheme will help many of our residents to improve the energy efficiency of their homes so they are warmer while helping to keep their energy bills under control."
The primary purpose of the Sustainable Warmth Cumbria initiative is to raise the energy efficiency rating of low income and low Energy Performance Certificate (EPC) rated households – those with E, F or G, and a limited percentage of homes with an EPC rating of D.
This is expected to result in the following outcomes:
Tackle fuel poverty by increasing low-income households' energy efficiency rating while reducing their energy bills.
Deliver cost effective carbon savings to carbon budgets and progress towards the UK's target for net zero by 2050.
Support clean growth and ensure homes are thermally comfortable, efficient, and well-adapted to climate change.
Support economic resilience and a green recovery in response to the economic impacts of Covid-19 and by creating jobs.
Learn from the delivery experience to inform the development and design of further energy efficiency and heat schemes.
Homeowners will not be asked to contribute to the cost.
Privately rented properties are eligible for funding of up to £5,000 or up to two thirds of the cost of the measures. Landlords will need to contribute one third of the costs.
To be eligible a household must have an annual income of less than £30,000, with larger thresholds for households with three or more members.
Now that the scheme is live it will be managed by Homelife Carlisle, a Home Improvement Agency provided by Carlisle City Council.
Residents who have not received a letter can check the criteria to see if they are eligible and can apply themselves to by visiting Sustainable Warmth Cumbria Grants (carlisle.gov.uk)
For more information visit: Barrow BC – Energy Advice