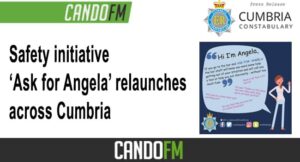 Cumbria Constabulary have today (26th November), relaunched the 'Ask for Angela' safety initiative. The innovative scheme is being ran in many bars and pubs across Cumbria and allows people who feel unsafe in a situation, to discreetly signal for help.
The timely relaunch comes as people are starting to go out more following the pandemic, nights are darker and the festive season is on the horizon.
Pubwatch and Bar schemes across Cumbria, have signed up to the nationally recognised Ask for Angela campaign.
Ask for Angela is a simple code word campaign for people feeling unsafe when on a date or out in the night-time economy. It encourages people to discreetly ask for help by going to the bar and Asking for Angela – a phrase aimed at alerting staff to a need for assistance, so they can defuse a situation.
Once alerted, the person is taken aside or to a safe location so they can speak in confidence about what help they may need. Staff can then call a taxi, contact a friend or family member, or direct the individual out of the venue via an alternative exit.
Participating venues have been briefed on the initiative and their staff have received training. Promotional posters advertising the scheme are displayed in discreet areas at participating venues and the public can enquire, prior to meeting someone for a first date, to check if a venue is part of the scheme.
Temporary Chief Inspector Gill Cherry, Night-Time Economy Lead for Cumbria Constabulary, said:
"Safety of the public is a concern that is shared not only by police but also staff at licensed premises.
"This is a great initiative for venues to sign up to, and it is important that the public are aware of the venues involved. That is why we are relaunching Ask for Angela across Cumbria.
"People want to feel safe when they are out. However, the feedback we received from the public, during our Call it Out Campaign survey, was that people unfortunately don't always feel safe when they are out in town at night. That is why this scheme is so important and important to raise awareness of it; it can provide the public with piece of mind that a discreet exit method is available should they be in a situation where they feel worried and concerned in a participating bar or pub.
"We want people to enjoy themselves in a safe environment when meeting other people. The Ask for Angela initiative is something that we believe can only increase the safety of members of the public when visiting bars and pubs.
"Whilst the campaign focuses on those who are on dates, it also applies to any situation where a person feels uncomfortable or threatened by a person they may have met."
Cumbria's Police and Crime Commissioner Peter McCall said:
"This is an important initiative, and essentially it demonstrates the effectiveness of all agencies working together to help make the night-time economy as safe as possible, for everyone to enjoy.
"Cumbria Police are committed to doing everything they can to make our streets safer and 'Ask for Angela' helps to provide additional support and reassurance to both men and women, in helping to prevent potential problems from escalating.
"I am delighted that even more bars and pubs than ever before, are signing up to the initiative, which highlights the importance that the Constabulary are relaunching the project and raising awareness with the public.
"For someone who unwittingly finds themselves in a situation where they are feeling vulnerable and scared, to have what is essentially a life-line, is invaluable."
Manager of Carlisle's Walkabout bar, Carol Carruthers said:
"Ask for Angela is a fantastic safety initiative, and we are pleased to be supporting its relaunch in Cumbria.
"Guest's safety is, and has always been, a priority for us and so is helping to create an environment where people feel safe. Women and men can come to our bar safe in the knowledge that if they find themselves feeling unsafe for any reason (when they are on a night out or date) that they can go to the bar, ask for Angela, and get the immediate help they need out of a situation.
"All our staff know what to do when somebody asks for Angela. They will act quickly and discreetly to best support the person in need of help.
"We want people to be able to feel they can relax and have a nice night out. This initiative is a fantastic addition to creating a safer environment for everyone.
To find out more about some of the venues using this scheme search social media for #AFACumbria.
If you are on a night out or date and find yourself in need of further support, please contact police on www.cumbria.police.uk/reportit or dial 999 in an emergency.