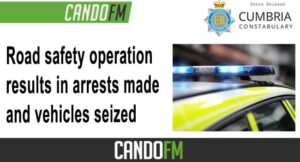 Officers made ten arrests and seized 20 vehicles during a week-long road safety operation targeting motorists who drive without insurance.
The national operation, which ran between 15 and 21 November, resulted in 102 vehicles stopped across Cumbria.
During the operation, officers uncovered other potential offences committed which led to arrests connected to drink driving, theft of a motor vehicle and possession of offensive weapons.
It is illegal to drive a vehicle on a road or in a public place without at least third party insurance. Even if the vehicle itself is insured, if you're not correctly insured to drive it you could be considered to be driving without insurance and could get penalised.
Uninsured driving is associated with an increased likelihood of being involved in a serious road collision and pushes up the costs of insurance for all drivers.
You can visit the Motor Insurers Bureau (MIB) website here to check if your vehicle is insured.
Inspector Graham Hawley, from the Constabulary's Mobile Support Group, said: "Throughout the year, our officers work hard to detect and prevent criminal activity across the county's road network and keep people safe.
"This week-long operation specifically targeted those who drive without insurance. Evidence shows drivers without insurance are more likely to be involved in other crimes, be it using a stolen vehicle, driving while disqualified or driving while under the influence of alcohol or drugs.
"Driving without valid insurance is not only against the law, it can have a significant impact on the lives of many other road users each year. The majority of which are law-abiding people who pay their insurance.
"We have access to a database that contains all vehicles which are uninsured and we will continue to take action against offending motorists."
For more information on this topic, please visit: Driving Without Insurance – Cumbria Constabulary.
Cumbria's Police and Crime Commissioner, Peter McCall, said: "This is an excellent outcome for the Constabulary and the county – taking uninsured and unsafe drivers off of our roads.
"It is important for all of the law abiding motorists who pay their insurance year after year to know that those who don't will not get away with it, they will be caught and reported.
"This campaign serves to highlight what in fact, the Constabulary do year-round and it's always interesting to see the results, but disappointing that there are still a number of people who selfishly drive without insurance, there is no excuse and when caught offenders will be prosecuted.
"Anti-social driving is an issue that is continuously raised with me by the public therefore it is and will continue to be one of my priorities as Police and Crime Commissioner.
"This operation should serve as a reminder to everyone to check that their vehicle is fully insured and if you're insurance has expired please renew or risk being caught and face the consequences of your actions."