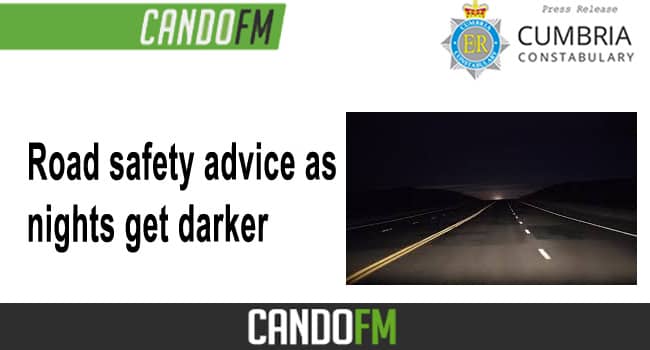 As it starts to get darker later in the mornings and earlier at night, officers and partners are encouraging road users to look out for each other whilst out in Cumbria.
On Sunday (Oct 31) the clocks will go back signalling the return of darker evenings.
When it's dark it makes it harder for road users to see each other at night, its important if you are out walking the dog, on your bike or running to ensure you are as visible as possible and avoid dark clothing so others can see you.
It's also important that motorists ensure they are also prepared by cleaning their lights and putting them on at appropriate times not relying on running lights.
Sergeant Callum Young said "We have reached the time of the year where it gets dark quickly, it's important that even if it is light when you leave the house that you are prepared for darkness.
"This can be through bright or florescent clothes, reflectors and lights this gives other people a better chance of seeing you and makes you safer.
"Drivers may also not be used to driving in the dark, if this is the case take your time and be vigilant to other road users.
"Weather conditions will also start to change as we head into winter, make sure you drive to the conditions ahead of you and your vehicle is fit for the road.
"We all have a responsibility to help reduce serious and fatal collisions, our actions on the road impact not just us but others.
Here's some tips on how to make yourself safer.
Motor vehicles/Motorcyclists
Check your lights, are they working? And make sure they are clean.
Keep your speed down so that you can always stop in the distance you can clearly see.
Be very aware that other road users may not be doing anything to keep themselves visible. Better use of your lights will help you to see and avoid others
If you drive a van – remember that when you are loading or unloading you are particularly vulnerable, wear hi vis and keep it clean! Wherever possible try use side loading doors at the kerbside.
Cyclists and pedestrians
Wear bright clothing, dark clothes make it harder for others to see you.
Reflectors and lights also make you stand out to road users.
Be alert to your surrounding and other road users, you maybe be able to see them but they might not see you.
Pedestrians keep to the footpath where there is one, if not, keep to the right-hand side of the road so you can see oncoming traffic.
Always choose a well-lit place when you cross the road.
Cyclists always wear a helmet.
Sergeant Young continued "As well as the nights getting darker, the weather conditions also start to change.
"Drive to the conditions ahead of you, and ensure your vehicle is fit for the road."
Winter ready tips
Make sure all the lights on your vehicles are working
Make sure your tyres have sufficient tread, and are inflated to the correct pressure recommended by the manufacturer. Also check their condition for any damage.
Check your windscreen washer bottle is full and wipers are in good working order
Make sure your engine cooling system is topped up with anti-freeze
Ensure vehicle windows are clear of ice and mist before starting a journey
Cumbria's Police and Crime Commissioner, Peter McCall, said: "The darker nights have drawn in quickly and most of us will not be climatised to driving in the dark yet.
"Dark nights and mornings limit our field of vision and we can't see as far ahead as we can during the summer months, so it is essential that we drive more carefully and follow the rules of the road to best avoid dangerous or fatal accidents.
"I would urge all motorists to drive at an appropriate speed, always wear your seatbelt and do not use a mobile phone and always check your car safety.
"Pedestrians also have a part to play to make sure they are as visible as possible to drivers – wearing reflective and bright clothes increases the chance to be seen and try to stick to lit paths and roads as best as possible.
"The message is simple: stay safe and drive to the conditions of the road."