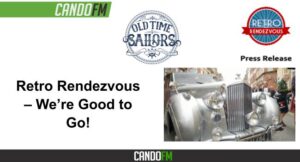 Retro Rendezvous, the popular South Lakes retro and vintage festival, is gearing up to launch at its new venue Ford Park.
By moving to Ford Park, we feel that we can develop the style and scale of a traditional English fete, taking the festival to the next level.
The event will remain largely free, supported by a small number of ticketed elements, and fundraising events.
The event opens on the evening of Friday June 10th with the legendary Old Time Sailors, in the big marquee at Ford Park. Asked to describe them, one of the organisers said, 'imagine if the Pogues did sea shanties!' This is the only paid event at the festival, with tickets available from www.retrorendezvous.co.uk 
This is followed by another 13 free acts over June 11-12, ranging from brass, through the Spiratones, to rockabilly and the Sad-Eyed Puffins.
If this isn't enough, the Coro are also in on the act, with the brilliant Northern Soul show 'Northern Live, Do I Love You'. Tickets from the Coro
What else? Food, bar, vintage and retro stalls, classic cars and motorcycles and the Velo Retro vintage cycling event!
Friday June 10 7-11pm
Sat June 11 11am until early evening
Sun June 12 11am until early evening
Keep an eye on the Retro Rendezvous Facebook Page for updates, before and during the weekend!