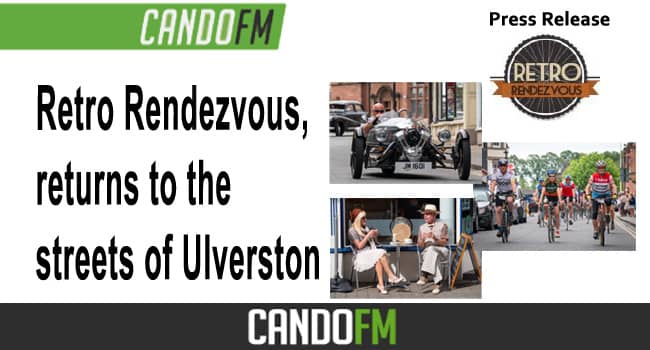 The popular South Lakes retro street festival, Retro Rendezvous, returns to the streets of Ulverston next weekend. This is the first, major Ulverston street festival since November 2019.
Retro Rendezvous is a mainly free street festival based in the market town of Ulverston, branded as 'Cumbria's Festival Town'. The festival features:
• Live music throughout the weekend, on the Brogden Street main stage, and in the pubs and bars throughout the town.
• Classic car displays
• Classic motorcycle displays
• Vintage and retro market
• Food court
• Velo Retro vintage cycling – the biggest vintage cycling festival in the UK this year: www.veloretro.co.uk
The festival, which is family orientated, describes itself as 'the friendly festival' priding itself on the laid-back, hassle-free nature of the weekend.
The event was postponed twice in 2020, and again in June 2021.
Alan Brenton, one of the organising team: 'it's been a real challenge, staging the event this year. We've taken the decision to improve the quality of the programme and to steer away from the obvious opportunity for growth, presented by the success of the 2019 event. People really need something fairly normal to look forward to, and the local tourist economy really deserves the lift that the event brings, but we need to balance this with the obvious need to provide an event where everyone feels safe. We feel that our planning has achieved this, and we're really looking forward to welcoming our visitors'.
There are a number of informal events around the town on the evening of Friday September 3rd, with the main event kicking off at 1100 on Saturday September 4th.