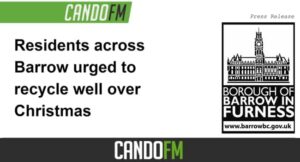 Residents across Barrow are being urged to help contribute towards a cleaner, greener borough this Christmas by following expert guidance on recycling.
The festive period will see many of us sending cards or exchanging presents ahead of the big day on December 25.
But reducing waste and disposing of cards, boxes and packaging carefully this Christmas is just the gift the area's waste operatives would most like to receive.
Here are three simple tips to help everyone across the borough to have a greener Christmas this year:
. Please place wrapping paper in the waste bin.
This is because foil-based wrapping paper and wrap containing glitter or sellotape can cause problems at recycling centres, where it can contaminate large quantities of other recyclable materials.
. Plain Christmas cards can be recycled with your cardboard and paper.
However, cards that contain glitter, foil or glued-on decorations must be placed in the waste bin.
. Flatten and fold cardboard packaging and boxes and place them in the recycling.
But please make sure they are kept dry prior to collection.
Councillor Ann Thomson, the leader of Barrow Borough Council, said: "Christmas is such a special time which for many people means spreading Christmas cheer with a card or gift.
"We want to make sure people know how best to dispose of the extra things they will find in their homes at this time of year, like wrapping paper, cards and boxes.
"Unfortunately, while we might think it would be easy to recycle wrapping paper, it's make up means it is best placed in the bin.
"Recycling as carefully as we can is the best way to increase the amount we recycle as a borough overall – something that is a key priority for us as a council."
There are also other ways to make a difference this Christmas.
Offering to create memories is a great alternative to buying gifts for family, friends and neighbours – perhaps by planning a walk and a picnic, or a visit to a local cafe they enjoy or have always wanted to try.
Supporting local shops and businesses as much as you can also has a positive impact. It provides a boost to the local economy and cuts down on excess wrapping used by some online retailers.
Cllr Thomson added: "Thinking a bit differently this Christmas can help us improve our rates of recycling to make our neighbourhoods as clean, tidy and environmentally friendly as they can be – something we will all benefit from both now and into the future."
Waste and recycling collection dates will remain unchanged in the borough over the Christmas period this year. Please put your bin and recycling out on the morning of collection and take it in again as soon as possible on the same day.
For more information about recycling across Barrow – and to see a handy guide to recycling – please visit Barrow BC – Recycling & Refuse