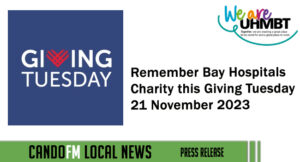 If you are inspired by the annual Giving Tuesday event on 28 November 2023, why not help the Bay Hospitals Charity, the charity for patients served by the Royal Lancaster Infirmary, Furness General Hospital, Westmorland General Hospital and community services provided by UHMBT.
Giving Tuesday is a global generosity movement created in 2012 as a simple idea: a day that encourages people to do good. Over the past ten years, this idea has grown into a year-round global movement that inspires hundreds of millions of people to give, collaborate and celebrate generosity.
People can show their generosity in a variety of ways during Giving Tuesday⁠⁠ – whether it's helping a neighbour, advocating for an issue, sharing a skill, or giving to causes, everyone has something to give and every act of generosity counts, and Bay Hospitals Charity Head of Charity and Fundraising, Suzanne Lofthouse, explained that if people were looking for somewhere to donate to, the charity was a good place to start.
Suzanne said: "While there are hundreds of charities and all do a huge amount to help people, if you are looking for something close to home that helps those unfortunate enough to find themselves in need of hospital care, our charity is a good one to choose.
"The Bay Hospitals Charity allows us to elevate the service offered to our patients to a level higher than what we could provide relying solely on Government funding, transforming local people's experience of care, so it is vital that we continue our work – which then supports the patients and staff across the area.
"So many people are incredibly generous, year upon year, and we are so grateful for their support.  We recently received a marketing grant from NHS Charities Together which we have used to help us broaden our message to the wider public and hopefully help generate even more money to help our local population.
"We are making it easier for local people to donate by installing pay points across the hospital sites, and we accept donations on our website or in any other way. We are incredibly thankful for every fundraising effort that people make and every donation we receive. We'll continue to keep people informed on how their donations help our patients and staff."
Please visit Bay Hoaspitals Charity to donate or get involved with fundraising. Find out more about Giving Tuesday here.