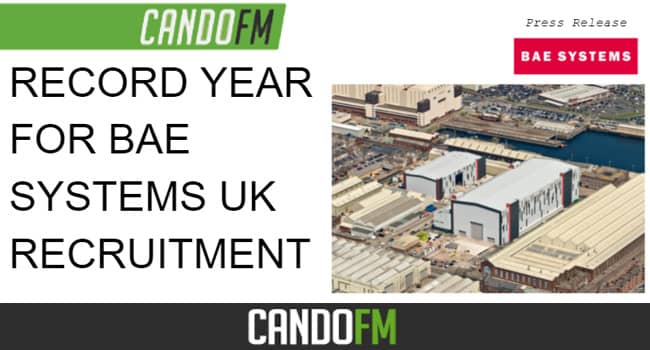 HUNDREDS of apprentices and graduates are joining BAE Systems Submarines in Barrow this September.
Overall, more than 800 apprentices will be joining BAE Systems' ranks across the UK this year in addition to more than 350 graduates, which marks the second consecutive record year for early careers recruitment despite the ongoing pandemic.
This record intake comes as the uncertainty around Covid-19 has significantly impacted the UK economy, and caused 40% of young people to put their career plans on hold. By training apprentices and graduates to a high technical level, and creating a significant number of new jobs – with 70% of the apprentice roles based in the North of England – BAE Systems aims to support the UK in its economic recovery, and help the 'Lost Generation' find future-proofed careers.
The Barrow-based Submarines business is talking on 227 Apprentices, 119 Higher Apprentices and 100 Graduates.
Richard Hamer, Education and Skills Director, BAE Systems, said: "Training new employees and creating jobs is critical to the UK economy – our apprenticeships accomplish both. Now more than ever, it is important that we invest in future generations of the workforce to ensure a steady recovery from the economic impact of Covid-19 and provide a diverse pipeline of talent.
"The contribution apprentices make to our business is invaluable. 95% of our apprentices complete their programme and of these, almost all progress into permanent employment with us. Through on-the-job learning, training and the opportunity to work alongside industry professionals, apprenticeships offer an entry into a long-term and successful career."
The new intake of apprentices will train in a range of disciplines that include manufacturing, software development, data analysis, finance, project management and business administration. The apprenticeship programmes cover all of BAE Systems' businesses and trainees can develop their skills working with the Company's operations advanced programmes including Tempest, the future combat air system for the Royal Air Force and Dreadnought, a new generation of submarines for the Royal Navy.
Graduate Engineer Rory Anderson started with the Submarines business in January and hasn't looked back.
He said: "As someone who has spent time at university but lacks a trade background I've found it very enjoyable and eye-opening to spend time with the tradespeople in my team and getting to know how each of them contributes their knowledge and skillset to the build.
"What is incredibly encouraging for me is that all of the tradespeople have all been more than happy for me to observe their work and ask plenty of questions along the way, which I'm very appreciative of, and I have little doubt I will have to draw on their experience to help me in my role in the future."
For Apprentices and Higher Apprentices, BAE Systems provides more than 50 different programmes, with a range of entry requirements and study options that go all the way up to degree level.
There is a diverse selection of roles to choose from and the number of schemes on offer has been doubled to reflect both the need for new high-skill workers in the engineering, cyber and manufacturing sectors. Many apprentices are 25-years-old and over and the roles provide an array of opportunities for those looking to retrain.
Applications for apprenticeships reopen on 21st November 2021. For more information about the Company's early careers opportunities, visit: https://baesystems.com/earlycareers.