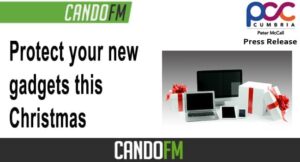 Cumbria's Police and Crime Commissioner, Peter McCall, is urging the public to check and protect any new technology they received at Christmas. Laptops, mobile phones and tablets are popular Christmas gifts but can be a pathway into your home for criminals, if not protected.
Online crimes can be difficult to prosecute as they can take place from anywhere in the world and often relies on partnership working between Governments to enforce.
Cumbria's Police and Crime Commissioner, Peter McCall, said: "Many of us will have received new laptops, phones, tablets etc. for Christmas and it is essential that we protect these gadgets from online attacks.
"Brand new and second-hand technology comes with a risk and is susceptible to cyber criminals so I really would urge everyone to buy some form of anti-virus technology, and, if second-hand, return the software to factory settings to wipe any access to the device.
"Cyber-criminals are continuously developing their skills to target innocent people and the best way to stop them is by getting ahead of them and protecting ourselves as best as possible.
"There are lots of fantastic online sources that provide advice around cyber security including Get Safe Online – their website, www.getsafeonline.org is incredibly informative and helpful, and I would urge everyone with any gadgets, old and new, to sit down and read up on online security.
"If you have been the victim of a cyber-crime please contact the Police on 101 or report it to Action Fraud on 0300 123 2040.
"Don't let cyber criminals ruin your Christmas."
Detective Inspector Andrew Myers, Cumbria Constabulary's Cyber and Digital Crime Unit, said:
"Cyber security is an important aspect we should all consider because smartphones, computers and the internet are now such a fundamental part of modern life. From online banking and shopping, to email and social media, it's more important than ever to take steps that can prevent cyber criminals getting hold of our accounts, data, and devices.
"There are a number of simple measures you can take to help make your devices more cyber secure. Installing the latest software and app updates is important as applying security updates promptly will help protect your devices and accounts from cyber criminals.
"I would strongly advise you consider the strength of any passwords you use online. Often the more complex it is, the more difficult is for cyber criminals to work through them.
"If you have purchased a new internet-enabled device or received one as a gift, please consider protecting it and yourself from cyber-crime."