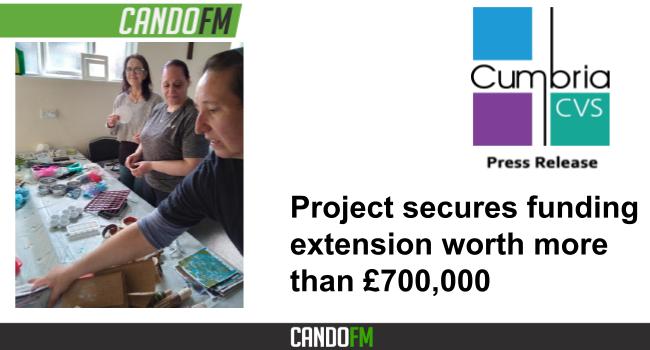 A project which supports people who face multiple and complex barriers to move towards employment has been awarded a major funding extension.
The Building Better Opportunities Getting Cumbria to Work (BBO GCtW) project has received an additional £724,487 of funding from the National Lottery Community Fund and the European Social Fund.
The two-year extension of funding will allow the project to continue its vital work supporting people in the Barrow and South Lakes area up to June 2023.
"This is really great news," said BBO GCtW project manager Natalia Wealleans-Turner. "It means we can reach out and work with many more people to ensure they have the necessary support to help them to move towards employment."
The BBO GCtW project supports people in the Barrow and South Lakes area aged 18 and above, who are either unemployed or economically inactive and are furthest removed from the labour market.
Since it began in 2017, it has worked with more than 480 people, helped 91 participants gain meaningful jobs, helped 100 people obtain education and training and given 73 people job search skills.
Ms Wealleans-Turner said the extension of funding was particularly important following the impact of Covid.
"People have been affected by Covid, not just economically but also in terms of their mental health and well-being. They have been inward-looking, feeling isolated and secluded, but as we move to a recovery period the BBO GCtW project will help people think about their goals and aspirations for the future."
Participants in the project have complex barriers to gaining employment. They have included refugees from countries such as Syria and Iraq; people with childcare issues or lack of access to IT; people in recovery from substance issues; people with mental health issues and those who had been out of work for a long period of time.
Each participant is assigned a keyworker and one-to-one sessions are held to develop an individual plan to identify and help them achieve their goals.
Specific help can include help with writing CVs; guidance on how to use job search websites; funding for childcare, training courses and IT equipment; support to find work experience placements and voluntary opportunities; and help to find suitable jobs.
The funding extension means the BBO GCtW project can develop some of its activities to help participants gain more confidence and self-esteem, recognise their skills and to meet new people. These have included wreath-making, yoga gong baths and baking on a budget sessions.
Ms Wealleans-Turner said the extension also gave the project the opportunity to seek other funding streams so it could continue its work beyond summer 2023.
She said the decision to extend the funding was based on the project's performance. "It has been awarded because the project has been successful, has met its targets and over-achieved on some of the requirements of the original grant."
The BBO GCtW project gains regular feedback from participants. One wrote: "The support I received really helped me with my confidence and I have now returned to work." Another stated: "I believe I can achieve things in life now. Anything is possible."
The BBO GCtW project is funded by the European Social Fund and the National Lottery Community Fund and led by Cumbria Council for Voluntary Service (CCVS) in partnership with three charitable organisations – Right2Work, Women's Community Matters and Cumbria Alcohol and Drug Advisory Service (CADAS).
The project has signed up 483 participants since it started in 2017.
For more information about the project visit www.gettingcumbriatowork.org.uk or search for Building Better Opportunities Getting Cumbria to Work on Facebook.