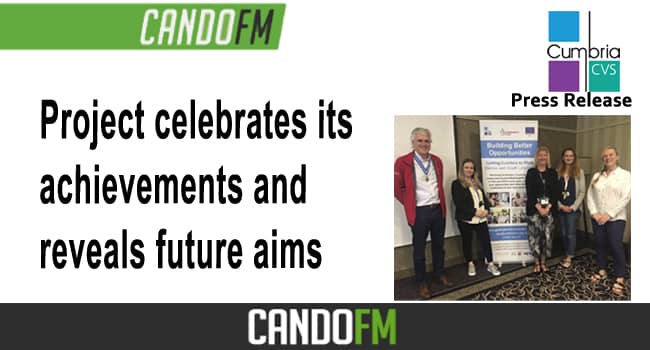 A project which supports people who face multiple and complex barriers to move towards employment has helped 75 participants gain meaningful jobs.
The Building Better Opportunities Getting Cumbria to Work (BBO GCtW) project has also helped 69 people obtain education and training and given 54 people job search skills since it began operation in 2017.
In addition, in a recent survey, participants reported an 87 per cent increase in their health and well-being, a 96 per cent increase in their self-confidence and an 83 per cent increase in their employability.
The statistics were announced at a special event to mark the achievements and explain the work of the Building Better Opportunities Getting Cumbria to Work (BBO GCtW) project, which supports people in the Barrow and South Lakes area aged 18 and above, who are either unemployed or economically inactive and are furthest removed from the labour market.
"An independent calculation this year showed that every £1 invested in the project has yielded an indicative social return on investment of £3.37," BBO GCtW Project Manager Natalia Wealleans-Turner told stakeholders, partners and guests at the meeting in Kendal.
Participants in the project all had complex barriers to gaining employment, said Ms Wealleans-Turner. They included refugees from countries such as Syria and Iraq; people with childcare issues or lack of access to IT; people who had suffered from domestic abuse; people in recovery from substance issues; people with mental health issues and those who had been out of work for a long period of time.
Each participant is assigned a keyworker and one-to-one sessions are held to develop an individual plan to identify and help them achieve their goals.
Specific help can include help with writing CVs; guidance on how to use job search websites; funding for childcare, training courses and IT equipment; support to find work experience placements and voluntary opportunities; and help to find suitable jobs.
"We also aim to help people improve their emotional and mental health well-being and their self-esteem and self-confidence, which helps them be in a much better place to move towards employment," said Ms Wealleans-Turner.
She said the project had organised a variety of activities to help participants gain more confidence, recognise their skills, feel included and to meet new people. They included cook and eat sessions, where those taking part received ingredients and cooking instructions; wreath-making; and yoga gong baths.
Those at the event in Kendal saw feedback from participants. One wrote: "The support I received really helped me with my confidence and I have now returned to work." Another stated: "I believe I can achieve things in life now. Anything is possible."
Ms Wealleans-Turner said future aims included developing an outreach programme into communities to help even more people and increasing the number of work experience and volunteer placements.
The BBO GCtW project is funded by the European Social Fund and the National Lottery Community Fund and led by Cumbria Council for Voluntary Service (CCVS) in partnership with three charitable organisations – Right2Work, Women's Community Matters and Cumbria Alcohol and Drug Advisory Service (CADAS).
In addition, the project works with organisations including local charity shops and businesses, South Lakes Community Learning and Skills, Cumbria County Council's Resettlement Programme and the probation service.
The project has signed up 397 participants since it started in 2017.
One of the guests at the celebration event was High Sheriff of Cumbria David Beeby, who is also chairman of Cumbria Community Foundation. He said: "Cumbria is a great county in lots of ways but there are challenges as well and anything which helps people to progress in their lives is good news."
He praised the BBO GCtW project for its collaborative approach and added: "It is good to know it is making a difference."
For more information about the project visit www.gettingcumbriatowork.org.uk or search for Building Better Opportunities Getting Cumbria to Work on Facebook.