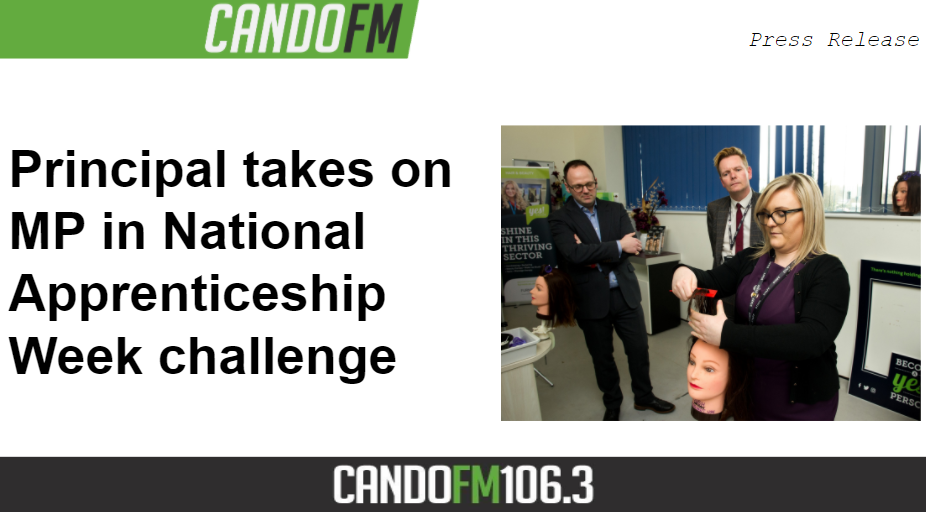 PRINCIPAL TAKES ON MP IN NATIONAL APPRENTICSHIP WEEK CHALLEGE
The Principal of Furness College will go head to head with the MP for Barrow and Furness to test their skills and knowledge as part of National Apprenticeship Week.
Professor Andrew Wren will take on Simon Fell in the college's annual Principal v MP Challenge on Friday.
This year it will take the form of a virtual online quiz featuring questions from the curriculum and on the topic of apprenticeships.
Professor Wren said a series of questions have been gathered from all areas of the college, which trains more than 700 apprentices a year across 20 industry sectors. College digital marketing apprentice Kane Fleming will host the challenge.
"We thought a virtual 'quiz' fitted well with the current situation of lockdown," said Professor Wren.
"Our students are continuing to learn and progress in their education in the online environment and our staff have been coming up with innovative ways of keeping students engaged."
"There will be questions at all levels we teach – up to degree level – because we wanted to do something to raise awareness that there are apprenticeships here for everyone in every sector, including higher and degree apprenticeships.
"We thought this challenge would give the MP an overview of the wide range of our curriculum and a chance to show what he knows."
The college, which has campuses at Channelside and a sixth form at Rating Lane, a offers apprenticeships in sectors from accounting to applied science, business to beauty and barbering, construction to customer services and management to motor vehicle.
There are also apprenticeships in early years education, engineering, hairdressing, health and social care, information technology, retail and team leading.
Professor Wren said there has been an increase in higher and degree level apprenticeships in this area.
"Employers want people who have the higher level skills they need to progress their businesses and they know apprentices can gain world-class skills at the Channelside campus," he said. MP for Barrow and Furness Simon Fell said he was very much looking forward to taking part in this year's National Apprenticeship Week challenge, which is themed #buildthefuture.
"The sheer range of apprenticeships available at Furness College is staggering and the skills they give people of all ages are valued by local and national employers alike. Last year Andrew firmly beat me in the challenge – what could possibly go wrong this time around?"
Furness College is supporting National Apprenticeship Week 2021 with a range of initiatives. Follow us on Facebook, Twitter, Instagram and LinkedIn. #NAW2021 #BuildTheFuture