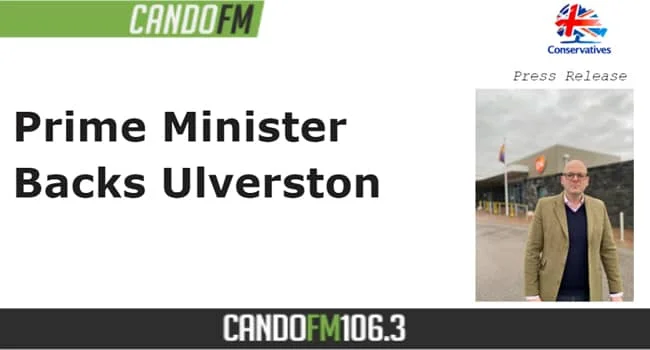 Just days after committing to meet with Furness MP Simon Fell, the Prime Minister has further offered his support to Ulverston.
In a letter, which comes in response to the Furness MP leading the campaign for a meaningful and lasting legacy at the GSK site in Ulverston, Mr Johnson expresses his 'deepest sympathy' for the impact of the news on the Furness community that GSK is to withdraw it's manufacturing business in five years time.
The Prime Minister outlines a few key points in his letter:
• He is 'keen to support the community in continuing its fine tradition in the UK's excellent life sciences industry'
• He will explore ways that the government can help to get Lakes BioScience off the ground
• He has commissioned the Office for Life Sciences, Vaccines Taskforce, and Theraputics Taskforce to consider how to support Lakes BioScience in this context.
Late last year, Lakes Bioscience submitted a planning application to South Lakeland District Council to create a life science manufacturing facility at the site, potentially creating hundreds of skilled, well paid jobs.
The Prime Minister also states that he has asked the Office for Life Sciences, Vaccines Taskforce and Therapeutics Taskforce to work with the NHS to identify the United Kingdom's manufacturing requirements, and to consider the opportunities to support Lakes Biosciences proposal in this context.
Mr Johnson has also asked Ministers in the Department for International Trade to ensure their support in attracting international investment into the Lakes Bioscience plans.
Commenting upon receipt of the Prime Minister's letter, Simon said:
"I'm very glad to have received a letter from the PM in response to my request for the Government's assistance in supporting a meaningful legacy from GSK for the community and assisting Lakes BioScience in providing security for jobs and skills in the local area.
"I look forward to meeting with GSK and the Vaccines Minister on Thursday to progress this and to sit down with the PM soon following his kind offer of a meeting with me, after my question at Prime Minister's Questions last week."