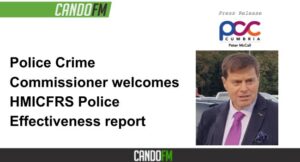 Cumbria's Police and Crime Commissioner, Peter McCall, has welcomed the Police Efficiency, Effectiveness and Legitimacy (PEEL) report following an inspection by Her Majesty's Inspectorate of Constabulary and Fire & Rescue Services (HMICFRS).
PEEL inspections were introduced in 2014 and assess all Constabularies in England and Wales. The inspections adapt to focus on current policing priorities and circumstances. The 2021/22 report focuses on the key policing areas; providing services, investigating crime, managing offenders and suspects and protecting vulnerable people.
Cumbria's Police and Crime Commissioner, Peter McCall, said: "I welcome this report from HMICFRS.  Peel inspections are an invaluable aid to me in holding the force to account by giving an independent technical expert assurance of force performance.
"I'm really pleased to see that we have received an Outstanding in managing sex offenders and high-level violent offenders, this is extremely important, keeping the public safe from potential harm.  The force is graded Good in investigating crime, developing a positive workplace and protecting vulnerable people these are the most important aspects of policing and protecting our communities.
"This report is reflection of the consistent hard work that the Constabulary achieves on a day-to-day basis to keep us all safe.  I want to thank all Officers and civilian staff for their dedication and hard work that continues to keep Cumbria one of the safest counties in England and Wales.
"Cumbria Police are right at the forefront of developing technologies in policing and the report highlights some key innovative practices used by Cumbria, especially around the management of offenders including The Pathways Programme, funded by my office, and working with select perpetrators to identify the causes of their behaviour and reduce reoffending.
"HMICFRS also notes that Cumbria had the fifth highest charge and summons rate for sexual offences in England and Wales, and in the year ending 30 June 2021, the Force's 'action taken' outcome was 4.1% higher than the average for all constabularies.  I am pleased to note that the force is doing better than most in this respect but there is still much room for improvement.
"In terms of creating a diverse and positive workplace, Cumbria Constabulary employs more female officers than any other Police Force in England and Wales, with 40% of our officers being female.
"The Constabulary provides an effective service to the public but there are always learning opportunities and areas where we can and should improve.  Reports, such as PEEL, provide us with the opportunity to look at which areas can change and improve upon to create a better service for the public and victims.
"The Constabulary has already made a number of improvements on the findings of this report and continue to do so to continuously improve the service they provide.
"The report highlights that we have an efficient, effective and legitimate Constabulary in Cumbria.
"I will continue to hold the Chief Constable to account on the areas in which we can improve at my Public Accountability Conferences and together we can keep Cumbria safe."
Chief Constable, Michelle Skeer, said: "We welcome HMICFRS's recent findings recognising the Constabulary as 'Outstanding' in the management of sex offenders and high-level violent offenders and as 'Good' in the areas of investigating crime and our work to keep vulnerable member of the communities safe.
"We are incredibly proud to have received recognition for the hard work and dedication of our staff and officers in numerous policing areas, which was achieved despite having to quickly adapt to the evolving challenges that policing COVID has presented.
"The findings recognised that Cumbria Constabulary remains one of the top performing forces in the country for areas including domestic abuse arrests, charge-summons rates and 'action taken' outcome rates.
"The force's work to prevent and reduce crime, including partnership working and the innovative work officers are facilitating in communities, were also positively recognised.
"However, we are never complacent, we want to provide an outstanding service across the board for Cumbria.
"Improvements to response times for answering non-emergency calls, were identified as needing improvement. A call-back system and a live-webchat facility have both since been launched, with positive results already being achieved. These facilities are in addition to reporting online via our website or calling 101."