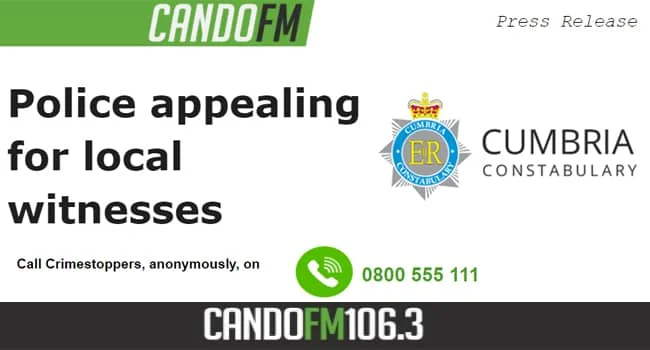 Barrow
Police are investigating a fail to stop road traffic collision that occurred on Newport Street, Barrow on 27th March at 12.36pm.
It was reported that a red Renault, possibly a Clio GT, part registration SY59, with a damaged front grill was in collision with a parked grey Kia Stonic.
Officers are requesting that the driver, or anyone who may have witnessed the incident, have CCTV/Dashcam footage or are aware of the collision to contact the Police.
Anyone with information or who witnessed the incident is encouraged to contact PC 0007 on 101 quoting log number 121 of the 27 March. Alternatively, you can call the independent charity Crimestoppers, completely anonymously, on 0800 555 111
Barrow
Police are investigating an incident of assault which occurred between Ironworks Road and North Road on 24th March at 3.20 pm.
It was reported that a large group of males, aged around 17 to 18 were involved in verbal altercation which resulted in a male being assaulted by another male. One of the males suffered a minor hand injury.
Anyone with information or who witnessed the incident is encouraged to contact police on 101 quoting log number 107 of the 24 March. Alternatively, you can call the independent charity Crimestoppers, completely anonymously, on 0800 555 111