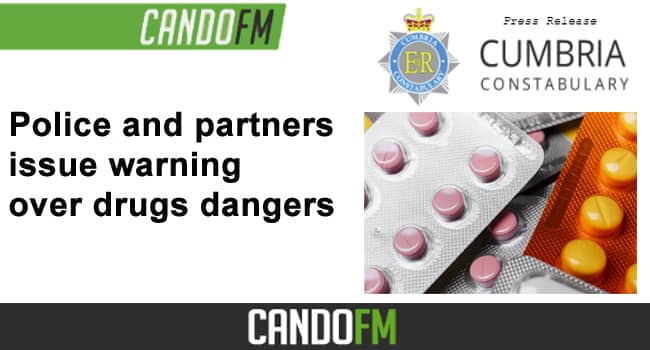 Cumbria Police are teaming up with professionals who help people steer clear of substance misuse to warn of the dangers of buying prescription drugs online.
Constabulary officers and staff from Unity, the alcohol and drug recovery service, are issuing the advice following a number of deaths suspected to be linked to this issue in recent years.
Prescription drugs falling into the bracket of benzodiazepines, which are known as benzos and include diazepam (sometimes referred to as Valium), are suspected to have been a factor in some of the deaths.
Benzodiazepines are a group of sedative drugs that can be prescribed by suitably qualified health professionals, such as a GP,  following a consultation undertaken with due care.
Some benzodiazepines, such as diazepam, are prescribed to treat anxiety, insomnia, seizures (fits) and other health conditions.
Some people may not take their prescribed benzodiazepines as directed or may give or sell this medication to others.
These activities are very dangerous and have led to people dying from unintentional overdoses.
There is also a serious issue of people obtaining drugs similar to diazepam on the internet. People using them can be at a high risk of unintentional overdose.
Buying drugs illegally also means there are no guarantees what these may actually contain.
This issue is being covered under Cumbria Constabulary's ongoing Operation Level.
Detective Inspector David Howard said: "Buying anything online without knowing the source or seller is dangerous and risky – you don't know what you will get.
"Certainly, pills and medication normally prescribed by a suitably qualified health professionals such as a GP should never be bought online without a properly conducted consultation.
"Fake and dangerous pills are sold online without any regulations or care for the end user.
"Pills and medications such as this should be prescribed by a suitably qualified health professionals, such as a GP.
"If you suffer any adverse reaction from taking a drug bought online, seek medical help straight away.
"There is also help and support out there for people affected by drug use.
"We work closely with partner agencies such as Unity, who can provide people with help, support and guidance."
Dr Patrick Horgan, Consultant in Substance Misuse at Unity, Greater Manchester Mental Health NHS Foundation Trust (GMMH), said:
"It is very difficult to judge how these kinds of drug will affect people; some benzodiazepines are weak, but some are very strong.
"This means that a small amount can have very strong effects.
"It also means that the 'same' dose from different purchases can have very different effects.
"It is particularly dangerous to use these drugs with alcohol or other sedating drugs such as strong painkillers.
"With this particular group of drugs, people can also experience very severe symptoms when they stop taking them – such as seizures, fits, and hallucinations (hearing voices or seeing things that are not really there).
"These issues can also be life threatening.
"Our services are open and available to all those who need us during the COVID-19 pandemic.
"If you are worried about your or someone else's alcohol or drug use, then please do get in touch with us."
Police are also appealing for anyone with information about such sales of prescription drugs to come forward with information.
Anyone with information about drugs supply is asked to contact police on 101.
Alternatively, you can call the independent charity Crimestoppers, completely anonymously, on 0800 555 111.
About Unity
Unity is the Drug and Alcohol Recovery Service for Cumbria and is part of Greater Manchester Mental Health NHS Foundation Trust.
It has a team of experienced staff, peer mentors and volunteers providing advice, assessment and personalised care and support to meet a client's individual needs.
Its recovery network is visible within the local community and is part of the foundation for people getting and staying well.
Staff also work closely with partners to ensure that a link can be provided with other support needed.
Contact Unity
If you are worried about your own, or someone else's alcohol or drug use, help is available. You can contact Unity by email at unityspoc@gmmh.nhs.uk or by telephone on the numbers below:
Barrow-in-Furness
Tel: 01229 207020
Opening times: Mon- Fri 9am to 5pm, 2nd and 4th Thursday in the month 5pm to 7pm (appointment only)
Carlisle and Eden
Tel: 01228 212060
Opening times: Mon, Tues, Thurs, Fri 9am to 5pm
Wed 9am to 6pm
Kendal
Tel: 01539 244004
Opening times: Mon, Tues, Weds 9am to 5pm, Thurs closed, Fri 9am to 5pm
Penrith
Tel: 01228 212060
Opening times: Mon, Tues, Weds, Thurs, Fri 9am to 5pm
This is a satellite service, please contact by telephone to talk to a member of the team.
Whitehaven
Tel: 01946 350 020
Opening times: Mon, Tues, Weds, Thurs and  Fri 9am to 5pm.
Workington
Tel: 01900 270 010
Opening times: Mon, Tuesday (9am to 10am for alcohol detox only),  Weds, and Fri 9 to 12.30 pm
You can also access Breaking Free Online, an evidence-based support programme for alcohol and drugs, free of charge and anytime. It's really straight forward, just click this http://www.breakingfreeonline.com/  link, enter the code Cumbria11 and your email address, and you can start using the programme. You can also gain access to their app for mobile use.
The following are some indications of when people may be having an overdose:
Reduced consciousness – not responding when shouted at.
Fitting (seizures).
Difficulty breathing (long pauses between breaths compared to normal).
Snoring/raspy breathing.
Blue or pale lips, fingers or toes.
Pale, cold and clammy skin.
When this happens:
Try to stay calm.
Stay with the person.
Ring 999 immediately and follow instructions given to you.